Do you ever find yourself needing to go through the different kinds of welding process?
You know that there are three main welding process, MIG, TIG, and Stick welding. What if you need all three of them?
You might wonder something like that would cost a lot of money to have three of them. Well, you are not completely wrong. Because of the emergence of a multi-process welder, you don't have to go through all that trouble anymore. They do cost money. But you have some budget-friendly welder options out there as well.
That's why we bring the best multi-process welder under $500, so you can pick one easily
Are you in hurry! Then check out our
Top Picks For Multi Process Welding Machine
Product
Image
Description
Best For
Buy Now
Forney Easy Multi Process Welder

1. It is 3 in 1 welder with Mig, Tig and Stick Weld facilities

2. You can easily switch from one welding mode to another by pressing a button

3. Voltage ranges from 12-23v, current ranges from 43 – 110A

4. It comes up with a Mig gun(10inch), a rod holder (8 inch) & a 9FV Tig torch
Safety & Highest Wire Feed Speed
Check Price
Welderpro Multi Process Welder

1. Input voltage ranges from 120v-230v
2. Amp range from 30-150
3. Suitable for welding 1/4 inch mild steel
4. Wire feeding capacity 78inch -396inch/minute
5. Easy to use and very lightweight
Spatter free Deep Weld
Check Price
YESWELDER MIG-205DS Multi Function Welder

1. Very easy to operate for synergic automated control
2. Mig wire less than 10lbs is best for mig weld
3. It comes up with 160 amp gas/gas less mig
4. Suitable for gas mig, gasless mig, lift tig and stick arc weld
Stable & Reliable Performance
Check Price
Tooliom 200A Multi Process Welder

1. Welding process is adjusted automatically through synergy software function
2. Input current ranges from 23.2A-32.5A & Voltage ranges from 110v-220v
3. Can be used for MMA, Lift Tig, Flux Mig, Arc Weld & Gas Mig
4. 0.030 & 0.035 Inch diameter flux wire to feed
5. 2t/4t operation is available
Heat Dissipation
Check Price
HITBOX New Arrival Mig Welder

1. Inverter: 220v DC
2. Included: MB15 MIG -gun, Earth Clamp, Electrode Holder, Gas Tube & Portable cable
3. (0.8-1.0mm) Solid wire and (0.8-1.0mm) flux cored wire
4. Duty Cycle: 100% with 0.8mm wire
Hobbyist & Professional Welders
Check Price
Also Check Out
What Is A Multi-Process Welder & Is A Multi-Process Welder Worth It?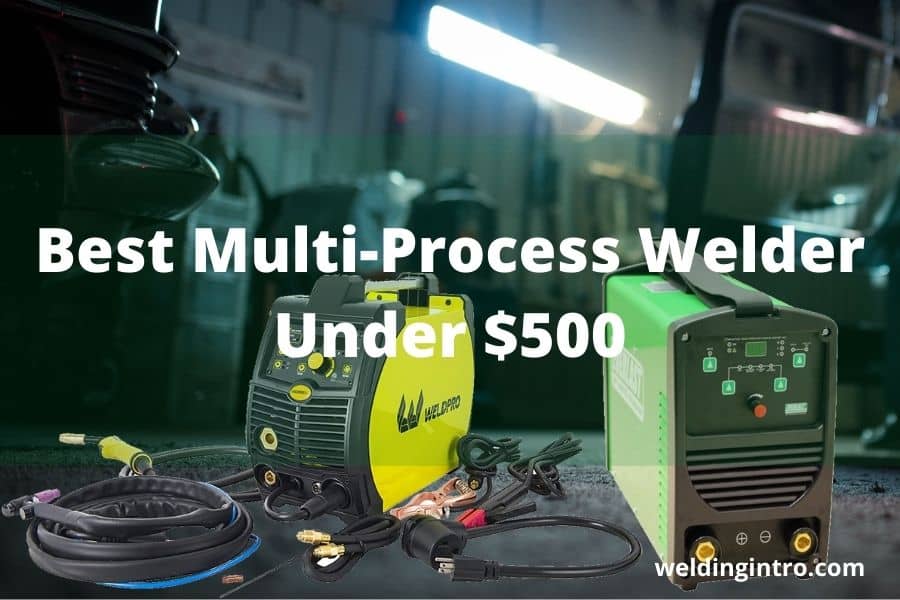 A multi-process welder is the kind of welder that lets you do different types of welding in one single machine. Meaning, you can do TIG, MIG, Stick, Arc, or any other type of welding on a single welder machine on multi spectrum of materials like mild steel, aluminum, even welding stainless steel .
If you want to buy different kinds of welder, it would cost way more money than buying a multi-process welder. So, they bring great value for the money.
The worth of multi-process welder depends on the purpose you will be using them for. If you are a hobbyist and need a welder for small projects at home, it's worth getting a multi-process welder because they are great for light projects and projects requiring different welding processes.
On the other hand, they aren't the best to go for any industrial-level project. Those kinds of projects will need welders that have their distinct functions. Because in industrial welding, it's important to provide strength and quality on the welds.
So, multi-processor welder is worth it all in all because they can save money, save space, and save a lot of your effort. If you weld at your home for small projects, they are the perfect thing for you.
Detailed Review Of best Multi Function Welder Under $500
We went through some deep research on the internet to find out these 5 multi-process welders top of the line. You can rely on any of them any day if it's about quality. The only difference is that they have their differences in terms of features and drawbacks.
Are you worried that you are a complete beginner at welding?
Then this can be a great option you can go for your needs. The Forney easy weld 140 is super easy to use and a beginner-friendly welder.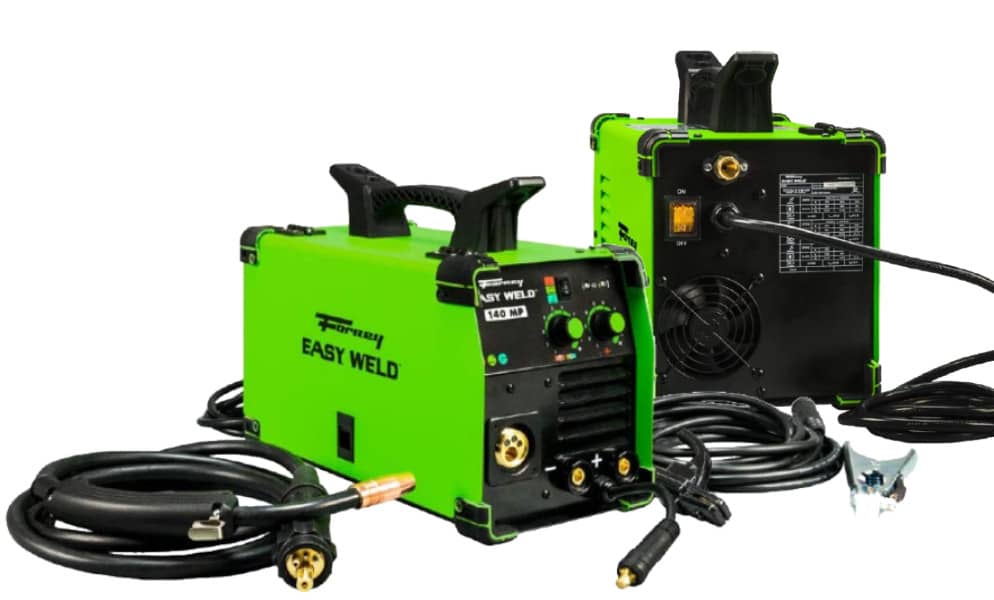 Is that the only good about this one?
Well, no, not at all. It comes with top-notch performance in 3 different welding processes. Whether you are gas or gasless MIG welding, TIG welding, or stick welding, you get great results for every single one of them. 
All the components you get with the packaging of this welder are perfectly made. The machine itself is heavy-duty built that spreads the durability vibe altogether.
The most important factor of this welder is it's so easy to use. This will be a great welder for anyone who wants to learn welding at their home. For any DIY home projects, you can rely on this machine to do the job effortlessly.
Lastly, the value for money aspect deserves some applauds. Getting this kind of performance and quality within that price tag is truly a great deal for anyone out there. You can't miss out on the deal you get on this one.
What We Liked
The welder is very easy to use, making it a beginner-friendly welder for anyone to use for some small projects.
It's a durable machine that comes from a well-known brand, so that you can rely on the quality for sure.
With its performance for all 3 kinds of welding, it will surely satisfy you.
This is a great value-for-money welder option for anyone who wants to weld at home.
The material and component quality is very impressive for the machine. You can say it's a quality product right off the bat.
What We Didn't Like
The welder doesn't work well for heavy-duty projects.
There are many complaints of too much spattering.
But you can control spattering by ensuring the dust free environment for welding project. Therefore, this one shouldn't be an issue.
If you have some experience with welding machines and know your way through them, this can be a great addition to your workspace. This multi-process welder can MIG, TIG, ARC and Flux-cored welding with some added power.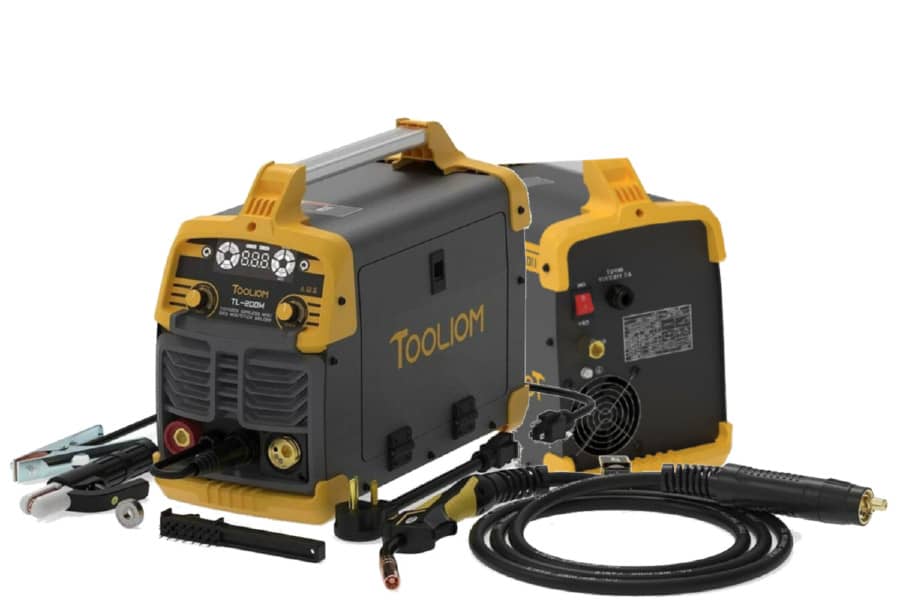 Let's start with the performance. You will not have any complaints regarding the performance as you can use this in dual voltages. It works on 110V, but at 200V, it will turn into you a beast to provide you with extreme power.
This one features 2t and 4t operation for both beginner and advanced users. If you are an advanced user, you will love the experience with this machine because of all the settings you can work with. For a beginner, things might be a little confusing.
When it comes to the welding quality, this won't fail you. It welds very nicely with great arc and stability. In some cases, this may have better arc and stability than some high-end welders as well.
After hearing all of this, many people will wonder how pricey is this thing. Well, I hate to burst your bubbles, but this is one of the most high-quality & affordable flux-core welders along with 3 more welding types you can get. It comes at a very reasonable price that may even shock you.
What We Liked
The welder comes with many advanced settings that allow users to get great potential from it.
It's a lightweight machine so that you can move it around anywhere for ease of work.
With the dual voltage mode, you can get just the kind of power you require from the machine.
Welding experience on this one will be great due to the stability in the arc.
Lastly, the machine's price makes this one a great deal that you can't miss out on.
What We Didn't Like
It's not the best option for beginners as they can't get full use of it.
Setting this up can be very frustrating for new welders without much knowledge of welding.
Imagine getting a high-end quality welder with a low-price tag. Well, you don't have to imagine anymore because this one brings that thought into reality. You won't believe how they can provide this kind of power and performance with the price tag.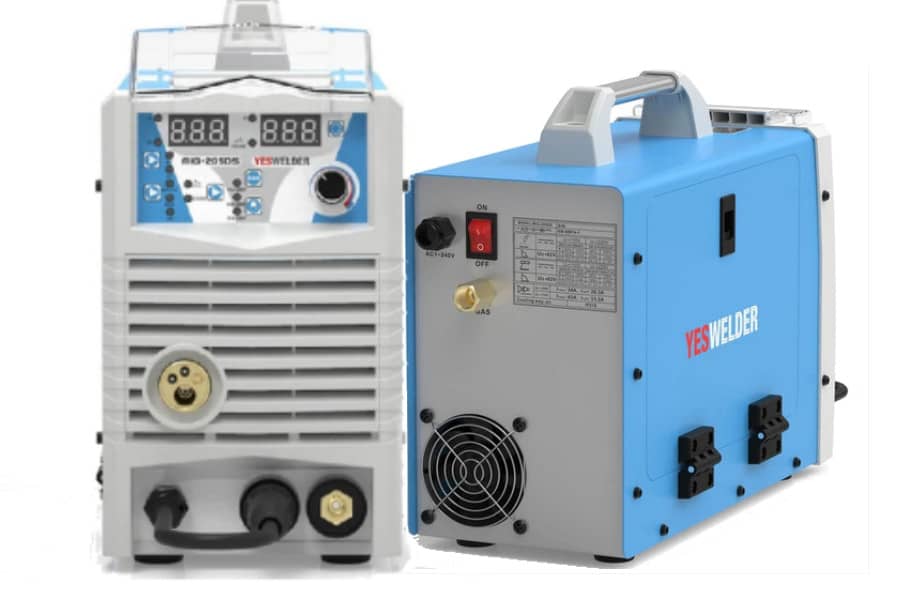 First of all, let's talk about the built quality of this machine. The metal case you get on this is sturdy, and you can tell that with just one look at it. So, you will never worry about durability on this machine at all.
Next up is the top-notch performance you get with the machine. It lets you run at 200V for the best performance and power you can ask from any multi-processor welder. It comes with 2t and 4t functionalities that you would love to have if you are an advanced welder.
You can move around your workspace very easily with this one because of the lightweight. So, going for those MIG, TIG, or Stick welding wouldn't be a problem no matter where you have to take this.
All in all, this provides high-grade performance, but you don't have to pay that much to get this. Considering the quality, performance, power, and features you get, the price is too good to be true.
What We Liked
This is a very lightweight welder that you can carry around your work.
It comes with great power and some advanced features that are very suitable for advanced users.
It has got MIG, TIG, and Stick welding features, so you have all the options you need.
The price is just too good to be true.
You will love the built quality of this welder, and you can say it's going to last long.
What We Didn't Like
The user manual doesn't come with proper information.
It will be a bit complicated to set up for beginners.
#4. Welder-pro MIG 155GSV Multi Process Welder (Best Cheap Multi Process Welder)
If you need a compact and lightweight welder, well, this should be your pick. And it's not just about the lightweight or small size for this one. It's a complete package you can get for your welding needs.
Starting with the performance, you won't have any complaints about it whatsoever. The machine has a dual voltage feature that lets you work in low power and high power.
So, whether you are working on some thin metal or thick metal, you won't have to worry at all as this can handle both.
Now the best part is the lightweight of this machine. It's super easy to carry around so that you can work anywhere you want. And the compact size makes it easy to store and keep anywhere.
As for the welding experience, you will love it. The spatter is way less than some other machines out there. Also, the penetration on this is super smooth if you can use argon gas alongside.
The performance is consistent throughout all the different kinds of the welding process. So, you will be getting quality results from any welding process you do.
What We Liked
This one is super compact and also very lightweight, which makes it easy to move around.
While it's small, it doesn't lack power at all, you can do light, and medium welding works with ease.
With the double voltage, feature welding becomes much more convenient.
This one is certainly worth your money, no doubts about that.
All the welding processes are very easy to use on this one which makes it a beginner-friendly welder.
What We Didn't Like
The wire feed housing on this one is made of plastic which can be an issue for some.
The wire feed can't hold more than 2pounds of the spool.
If you need some decent MIG, TIG, and ARC welding, then you can get this welder from HITBOX. It does all the welding process very well, and you won't have to pay a whole lot to get all those features on one machine.
Need some restoration for your vehicle body? Well, handling such kind of work is a breeze to this one. And with the combination of MIG and TIG welding, you can complete your work using just one machine; how cool is that?
The machine is overall easy to use. You have to figure things out a little in the beginning. After that, using this one will feel like home.
The controls and settings are very easy to understand and manage.
You won't have any issues with welding processes as this one comes with a 220v power supply. Also, the arc is very smooth and splatters as little as you can expect from this machine.
Last but not least is the appealing price of this product. You will love to have all the features we discussed. But at such a low price, all of that seems like a dream at first.
What We Liked
This is an extremely well-performing welder for various welding processes.
With 220v, you won't have to worry too much about power on this one machine.
The welding performance gets satisfying as you can have very smooth arcs and less splattering than usual.
It's quite easy to use once you figure out the settings initially.
Everything comes together when you consider the price; it's worth the money you pay.
What We Didn't Like
It doesn't have any clear instructions at all.
This welder isn't as durable as the competing welders.
---
What To Look For While Buying Multi Process Welder (Buying Guide)
While you are on the subject of buying a multi-process welder, you have to go through some considerations to pick the best one. Here are some factors you should go through when you are trying to choose a multi-process welder.
1. Durability
Durability is something you would love to have no matter what you buy. So, it's the same case for this one as well. It's better to go for a heavily constructed welder so you can get good performance from it for years.
Also, having better durability isn't just about the exterior; the internal parts should also be durable.
2. Power
For a good welder, power is very important. However, it's not necessary to go with the highest power for your welder as sometimes you might require less power than usual. So, it's always better to go for efficiency when you are considering power for your welder.
If you buy a welder for small home projects, then a light-duty welder will do the job. But if you need to do some welding on heavy projects, it's better to go for a powerful welder.
3. Voltages
Voltages have a lot of contribution to the power of your welder and serve a different purpose. Usually, if you are going to do light to medium projects, then a 120V welder will be enough for the job.
However, for any heavy projects and extreme power, you should go for 240V. Aside from that, getting a dual voltage welder is the best thing you can do to have the best of both worlds.
4. Weight
Now, this is a personal preference you can work with. If you want portability, then you have to go for a lightweight welder. However, a lightweight welder usually won't have that much power since the engines and parts inside won't be as rugged as a heavy welder.
So, if you need power, then you have to sacrifice the lightweight here. Or you can go for a balance if you find the options.
5. Warranty
Warranty plays a vital role in making buying decisions. Products that come with a longer warranty are usually built to last. Also, the risk of buying such products is less as you can get them fixed for free if anything goes wrong.
Usually, a one to three years warranty is something you can accept for a welder. Some welders come with a lifetime warranty, so you can rely on those without having any second thoughts.
6. Accessories and Options
This is very subjective as different ones come with different kinds of accessories. Some may have torches included for welding; some may come with a heated pedal. Try going for a welder that comes with the basic necessary accessories such as welding rods for stick welding, flux core wire, tungsten rod for TiG, spool gun etc. which are a must need for welding.
But one component that doesn't come with welder machines is eye protective welding helmet. You must separately collect this one because it is very important accessory for welders.
---
Frequently Asked Question (FAQ)
What Is The Best Multi-Process Welder For The Money?
If it's for money, then Tooliom 200A Mig Welder must be the best choice for you.
What's The Best All-around Welding Machine Overall?
For the all-around welding performance, you can get Forney Easy Weld 140MP without any second thoughts at all.
Because of the high quality, performance, brand name it hold as well as the affordable price.
What Is The Most Versatile Welder?
Coming to the versatility, it has to be the Yeswelder Digital Mig-2050DS MIG Welder as for all the different settings and functionality you will get.
Is there a welder that does MIG and TIG both?
Yes, there are many welder machine that can do Mig and Tig welding with a single machine. From my experience, I found Forney Easy Weld 140 MP welding machine is mostly eligible in this regard.
It can do Mig, Tig even Stick welding by a single machine. It is a single voltage welder which runs at 120volt.
You may run that in Ac or Dc mode which is a crucial advantage of this machine.
What are the best three in one welders?
We have covered best 3 in 1 welders under $500 in the main body of this article. If you have no budget restraint then you may go for following best 3 in 1 welders for best output.
1. Lincoln Electric LE31MP – This welder can do Mig, Tig, Stick and flux core weld at a same time. It is popular for its output and efficient duty cycle. You can run that in 120-Volt power.
2. Lincoln Electric Powermig 210 Mp – This duel voltage (120V or 230V) welder can do Mig, Tig, Stick and flux-cored with single machine. You can do almost all welding work with this single machine.
3. Hobart 500578 – This one is capable for Mig, Tig and Stick welding. Its most crucial feature is you can shift from one welding type to another just pressing two knobs and a process button.
4. Eastwood Elite MP200i – You can do Mig, Tig and Spot welding with this machine. It can weld any thickness of steel and aluminum perfectly with a stable duty cycle.
5. Vulcan OmniPro– This one is lightweight, powerful and perfect welder for thickness welding. You can do Mig, Stick (DC), TIG (DC), or Flux-core welding with this single machine.
What is combo welder?
Combo welder is multi-process welder. It doesn't contain any specialized type of welding in particular. Position of welding with this type of welder vary depending on the employer.
You may do Mig, Tig, Stick and flux core with this type of welder.
Which is better Miller or Lincoln welders?
From my research, I have found that the both companies are good at their own end. Miller is popular for Tig and Mig welding machines as they have pioneered in developing this two type of welding techniques.
On the other hand, Lincoln is good for stick welding machine manufacturing. They have been working on stick welding for century.
What does ESAB stand for in welding?
ESAB stands for – Elektriska Svetsnings-Aktiebolaget, which is a Swedish term. If we translate that in English we get -Electric Welding Limited company.
How do you know if a weld is not strong?
  Weld is very strong bond. But less of care or doing welding wrongly can cause a bad weld on any metal with any welding type used. If you see crack on welded area then you rest assured that the welding is not done properly.
Any uniformity that causes the break or lack straightness is a sig of bad weld. If the bean is uneven and too thin then we can say that a poor weld also.
Conclusion
To sum it up, there is nothing better for any home welding project than a multi-process welder. You can use them on your terms; whether it's for MIG, TIG, ARC, or Stick welding, it doesn't matter.
With the options we brought to you, there is no going wrong regarding quality and performance. It comes down to your purpose and your needs also the individual features these machines provide.
Related Article