A welder is a very handy tool that can do a lot of stuff. I mean, just look around you, and you'll see almost everything around you has used some sort of welding to put things together.
Now, if you are a professional or DIY hobbyist and planning to buy a professional welder, it can be a bit tricky a first.
Why?
Because of the high demand for welder machines, the market is flooded with knock-off brands with products ready to ruin your welding project.
That's why today I am here to introduce you to a welder manufacturer named Reboot, which produces some amazing welders to offer at a lower price point.
So, without wasting any time, let's see what Reboot welder has to offer us.
Reboot Welders At A Glance
Image
Product Name
Features
Price

Reboot RBM-2100D
1. Duty Cycle: 60%
2. Input: 110v & 220v
3. Function: 2T/4T
4. Good For: Repairing Works
Check Price

Reboot Tig 200
1. Duty Cycle: 60%
2. Power Efficiency: 85%
3. Input: 110v & 220v
4. Function: 2T/4T
5. Good For: Tig works
Check Price

Reboot Stick Welder
1. Rod Requirement:2.5mm-3.2mm
2. Power Efficiency: 85%
3. Suggested Breaker:50a
4. Function: 2T/4T
5. Good For: Home & Garage
Check Price

Reboot Plasma Cutter
1.Cut Thickness: 1/2", 3/4",1/3″ & 2/5″
2. Input Power:110v/220v
3. Can Cut: Stainless steel, alloy, aluminum, mild steel, carbon steel
4. Good For: automotive, ducting work, repair/maintenance, metal processing, manufacture
Check Price
Overview Of Reboot Inc
Lets begin with the
History Of Reboot Industry
Reboot wasn't founded very long ago, just back in 2010. That's why it might seem unfamiliar to many. But in just over a decade, Reboot has made a name for itself with high-quality products for thousands of customers.
Best performance and service at the most affordable price;

Reboot Inc.
this has been the motto of Reboot since the beginning. And as of now, this brand proudly stands up to its goal.
Over time, this brand expanded its lineup into plasma cutters too. Impressively enough, that too became an instant hit because of the innovation and service. Reboot has its operation spread across 50 countries in central and south Asia, Europe, North America and the Middle East.
And in all these territories, this brand has loyal customers who have the nicest things to say about Reboot products.
Where are Reboot welders made?
Reboot welders are manufactured in China. I know China does have a slightly bad reputation for manufacturing bad products.
But don't let it fool you, as Reboot stands separated from that with one of the best quality control in the industry and it is controlled by American based management.
Now a question may arise:
Are reboot welders any good?
Reboot welders are one of the most reliable tools you can buy for the money. A Welder is not cheap, so the investment has to be solid so that the welder lasts long. With a durable build and high-quality parts, a Reboot welder can serve you for years to come.
Another great thing about Reboot welders is that they come in every price range. So, whether you are a professional or DIY hobbyist, there is something for everyone.
On top of that, most of the welders are multipurpose so that you can cover MIG, TIG, Stick or any other type of welding with just one welder.
Now lets find out Some
Top Reboot Welder Machines For 2022
The first offering from Reboot we will have on this list is its 2100D MIG welder. So, whether you are welding professionally or just looking for a MIG welder for DIY needs around your home workshop, this is the best welder for the money.
Features
Dual input of 220 volts and 110 volt
Multiple usage scenarios like MIG, TIG, and Stick welding
IGBT inverted powered
Duty Cycle of 40% at 180A and 100% at 116A
There is much to talk about this great welder, and I'll start with the dual voltage capability here. So, Reboot 2100D has a dual voltage input ability, one at 220 volts and another is at 110 volts. So, this welder will allow you to cover the ground of two separate welders.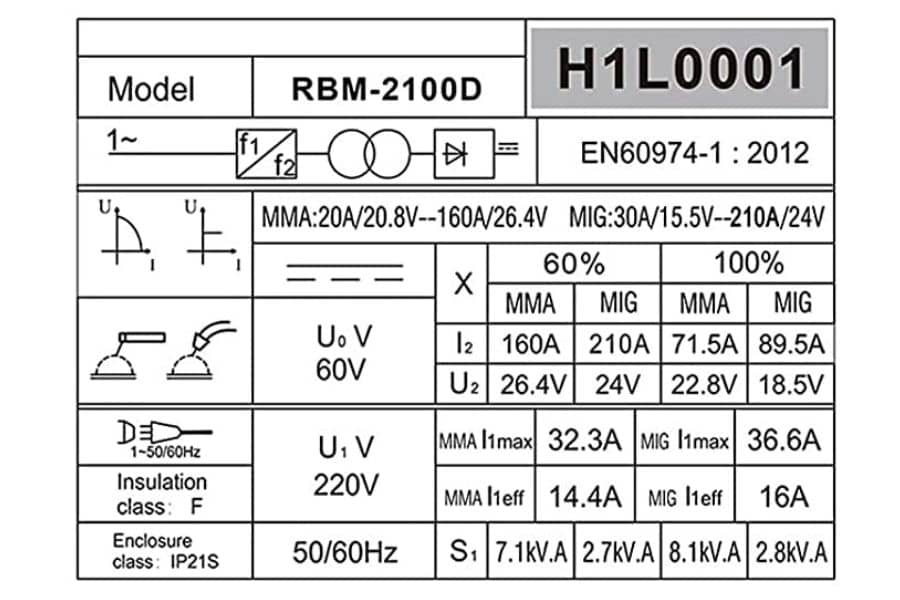 I know a welder isn't cheap, so many welders search for a machine that can serve various purposes. For them, Reboot 2100D is the perfect choice as you can use it for MIG, TIG, Gas or gasless mig and stick welding.
However, one thing to note here is that the TIG torch is not included in the package. So if you have plans to do TIG welding, you'll have to get one separately.
Last but not least, we have got a very simple and user-friendly interface at the front to control voltage and welding settings. So if you are a beginner, who doesn't have prior experience with MIG welders, the interface won't cause a problem at all.
The perfect blend of performance and quality makes Reboot 2100D a great MIG welder. So if you are thinking about stepping into MIG welding into an affordable welder, this might be the welder you should check out.
What We Liked
User-friendly interface
Dual voltage capability
Portable
It covers different welding types
Great for professionals and DIYers
Didn't Like
The gas line is a little too big
#2. Reboot TIG200 Welder (Best For Tig Weld)
The previous options I discuss here are mostly focused on MIG welding, which also covered TIG welding with a separate torch. But this time, I have brought you a Reboot welder specifically manufactured for MIG welding.
Features
Supports both TIG and MMA welding
Smart cooling and overheating protection
Anti-stick welder
Footswitch for manual operation
Like MIG welding, TIG welding also has a huge demand to weld different metals like stainless steel , aluminum Chromoly, nickel, or even gold. And, the good news is this TIG welder can be used to weld all this stuff and more.
Also, the welder worked with both AC and DC power sources too. So, no matter which type of power source you have available around, the welding will never stop.
As a premium TIG welder, dual voltage capability was pretty much expected here, and Reboot doesn't disappoint us here. So, again you get to cover more ground with this variable input.
Lastly, I would like to talk about Reboot TIG welder's operation mode. With these modes called 2T and 3T, the user gets extensive control over the current flow. However, keep in mind that feature like current reduction is only available in 4T mode.
I agree that this is not a cheap TIG welder at all. But with features lie current control and dual voltage capacity, the price is justifiable, and you should definitely invest in it.
We Liked
Dual voltage capability
Easy operation
Current flow control mode
Compatible with different metals
We Didn't Like
The price is a bit high
Vibrates during welding
After a MIG and TIG focused welder, this time, I brought you a stick welding machine from Reboot. This balanced welder has all the basics right and comes at a very attractive price.
So, let's dig a little deeper to see what this stick welder is offering.
Features
Dual voltage capability
Hotstart to increase current flow during arcing
Arc force to keep the weld smooth despite low current
VRD to prevent current shock
Lift TIG mode
The first thing noticeable about this stick welder is its versatility. Whether it's stainless steel rods or regular rods, you can weld everything with this welder just by adjusting the current flow.
Additionally, there are some extra features in this stick welder that make it fun to weld. For starters, there is hotstart which delivers an extra load of current when striking the arc. Ultimately, it makes the acing process a lot easier.
Then there is arc force that ensures that the welding goes smoothly without breaking even when the current flow is low.
Lastly, this stick welder comes with a voltage reduction device (VRD). This device basically protects the user from electric shock.
Though it's a stick welder, you can also TIG weld with it by switching the mode. And the ability to control the current and voltage just adds up to the list of convenient features of the Reboot stick welder.
Overall, this welder is a great option for people looking for cheap welders for small welding projects. There are some advanced features that make it a great deal in the budget welding segment.
We Liked
Great versatility
Bang for buck
Portable
Control over-voltage and current
We Didn't
It doesn't work well at 110V
The rod is a bit hard to light
#4. Reboot Plasma Cutter (Best For Performance)
Wrapping it up with a different type of product from Reboot. This time it's a plasma cutter, and Reboot has managed to continue its superior quality and performance in this sector too.
Features
Dual input of 110/120 & 220/240 volt
Max clean cutting of 1/2″
Max severance cutting of 3/5″
Amp range of 15 to 50 amps
The most important part of a plasma cutter is its cutting thickness. With the variable cutting voltage between 110 to 240 volts, this plasma cutter can easily cut through thicknesses up to ½".
This plasma cutter is one of the most versatile tools I have ever seen. It can cut through almost any metallic stuff including, stainless steel, aluminum, carbon steel or any type of steel alloy. Again we get to see the variable input of 110V and 220V.
Additionally, it can run on a generator, so you don't have to worry about a fixed power source in your project location.
The last feature I want to talk about is the block back option of this plasma cutter. After releasing the torch each time, a blow time of three seconds cools down the torch head and the consumable. This cooling facility later helps the cutter work more efficiently.
We Liked
Wide range of applications
Affordable price tag
Good cutting thickness
Blowback feature
Works with generator
We Didn't Like
The power cord is a bit short
Blowback featured has no adjustment option
---
---
Guide To Buy
As you can see above, Reboot has an impressive lineup of products at different price ranges and selecting one for yourself can be confusing. So, here is a list of factors you should consider to pick the best product according to your need.
Warranty/Guarantee
Warranty/ guarantee is an important aspect of any purchase. Though we should always make sure that we are buying the best product, a warranty/ guarantee service ensures that the product will be fixed if anything goes wrong.
So, make sure the welder you are getting has at least two years of warranty. As for the Reboot, it has done great by providing a 3-year limited warranty with their products.
Reboot Welder Support
Sometimes, the warranty service is offered as a marketing gimmick, and many manufacturers out there don't back it up. However, it won't be the case for Reboot welders as this brand is also famous for its aftersales service.
Every Reboot product ships with a warranty card, and if any problem occurs within the warranty period, you have to contact the seller for a warranty. Reboot will fix it and send it back as soon as possible.
Last Words
Here we are at the end of the article. I hope my review was helpful enough to get a deeper insight into the products. If I have to pick one thing that's common across all Reboot welders, it would be the impressive price to performance ratio.
Alongside the affordable price, great user review, and warranty service makes Reboot welders one of the best in the business.
Related Article