In this article, we will take you through the best welding rods for galvanized steel that will give a perfect welding experience. So, if you were looking for the right kind of welding rod to weld on a galvanized steel then stick with us till the end. We will cover
Types Of Rods For galvanizes steel
Top 4 Best Welding Rods For Galvanizes Steel &
What you should consider while buying them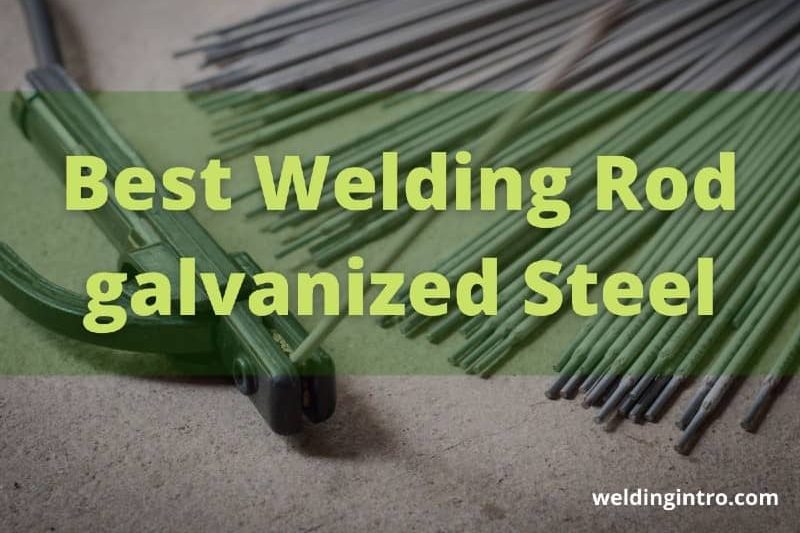 Comparison Table For Best Galvanized Steel Welding Electrodes
Choosing the right welding rod is necessary because it provides strength and quality in the weld and also you need to be careful about spatter yielding from welding.
Here is our best pick for welding rods.
Welding Rods
Features
Price

1. All rounder electrode
2. Best for welding on rusty and dusty surface
3. Tensile strength 60000 PSI
4. Can be run on AC or DCEP polarity
Check Price

1. Dimension: 14.75″ L x 2.25″ W x 2.25″ H
2. It can be used in polarity of AC & DC both
3. Flexible in any position
4. Galvanized metals having rusts, paints or dusts on surfaces can be welded
Check Price

1. diameter 2mm.(.08 inch) & length is 25 cm.(10 inch)
2. Melting point 380 – 400 ℃ (low temperature)
3. No need for solder powder and flux powder while welding
4. Can be used on galvanized steel, galvanized cast iron, aluminum, stainless steel and are corrosion resistant
Check Price

1. This is 3/32 welding rod
2. Useful in deep penetration, rusty and dusty surface
3. Best for stick welding galvanized steel
Check Price

1. This is 5/32-Inch welding rod
2. Useful for low spatter & slags
3. Best for mild steel
Check Price
Are you a complete beginner in welding?
Don't worry, by the end of this, you will have enough knowledge to start welding.
Check out our weld accessories deal.
The first thing to know here is
What IS A Welding Rod?
If you know the welding process then you might have seen that in welding there is a metal that is used for fusing the base metals to join in the welding process. This metal is welding rod or electrode that works as a filler material to the weld.
Types Of Welding Rods For Galvanized Steel
Do you know that the welding process of galvanized steel is pretty similar to normal steel welding?
However, the welding rods you use for galvanized steel are different from welding rods for normal steel.
check out brazing rods for aluminum here.
There are usually two types of consumable welding rods you will see.
Lightly coated and
Heavily coated.
The light-coated ones have a coating of material through spraying or brushing. The heavy coating comes through dipping or extrusion of material. Light coated welding rods are great for regular home DIY (do it yourself) projects, they aren't good for metals with higher contaminants.
Whereas heavy-coated ones are preferable for heavier projects that require more strength. It creates a gas arc that can protect the whole welding process from any kind of contaminants.
---
Top 5 Best Welding Rods For Galvanized Steel
If you are in a rush to do a project then going through all the technical stuff will slow you down. So, here is a quick rundown of the best welding rods you can use on galvanized steel.
1. Hobart 6011 (Best Rod For Galvanized Steel Welding)
Hobart is a brand that has been running its operation for more than a hundred years. They came up with their welding accessories line in 2000 and since then have become a fan favorite for many welders.
You don't have to worry about any dirt, paint or rust in your base metal when you have these rods to work with. They are great for penetrating through the layers of dirt or paint.
It's important that you get strength on any type of welding you do, and that strength comes from the welding rod you use. With these ones you can't go wrong in terms of weld strength because these ones burn very deep.
On top of that, these come with an excellent container that are great for keeping them safe and usable for a long time.
What We Liked
You can weld on any kind of steel as long as it's compatible with the 6011 type. Whether they are dirty, painted, or rusty it doesn't matter with this rod.
These rods will burn deep which gives great strength to the welds you do.
This comes with great packaging that keeps the roads safe and dry.
It's very easy to use these rods which makes them a great choice for beginners to practice their welding skills.
You get a good storage container with the welding rods so you won't have any issues with storing them.
What We Didn't Like
This may seem a bit pricey to some people. 
2. US Forge Welding Electrode (Best For Price)
US forge is a brand known for providing the regular people quality welding materials preferred by the professionals. So, you can trust the product they bring without any second thoughts.
These welding rods are great because of the smooth and quick burn you get from these. It doesn't take too much time to weld and also makes your weld much cleaner once you are done.
For the best kind of weld result you will need some rods that are usually dry and contain proper moisture. And these ones will fulfill that need precisely without any worries at all.
The all position compatibility on these ones truly make them a commendable choice. If you are looking for some welding rods which you can use for different positions this can be your best bet.
What We Liked
You will love the experience with these rods because of how quickly and smoothly they burn.
The moisture element in these rods is unmatched that gives you great weld results.
These are some great budget rods for home DIY projects and mid-level projects.
They are suitable for all positions as the AWS number dictates.
You can use these with both AC and DC polarity without having to worry.
What We Didn't Like
You have to be careful with the bad batches.
3. Ripeng Universal Low-Temperature Welding Cored Wire (Best For Mig Weld Galvanized Steel)
Ripeng is a newcomer in the field of welding items and a great mig welding wire. They have gained popularity through the use of their products. The attractive aspect of their welding items is the prices they offer them.
One package of this welding rod can set you up for your whole home DIY welding project because you get 30-pieces of welding rod on a package. That's more than enough for small projects.
If you don't know what exact type your steel is then this welding rod can suit your work. These are compatible with alloy, copper, galvanized steel and stainless steel as well.
Other than that, you can use this best quality aluminum rod in low temperatures which makes your work much quicker and easier at times. It's also helpful for working on materials that can't stand too much heat.
What We Liked
The rods come with a 30-piece package which is enough for your home DIY projects. 
These welding wires serve multiple purposes like welding on alloy, stainless, copper, and galvanized steel. 
You don't have to use any external solder powder with these welding rods. 
The melting point of these rods is 380 to 400 degrees Celsius which makes them usable in low temperatures. 
They come with good conductivity and great corrosion resistance. These work great for MIG welding. 
What We Didn't Like
Working with these requires a lot of expertise and precise control over the heat.
They aren't suitable for heavy projects as they can get very flowy. Not the best option for TIG or Stick welding.
4. Forney E6013 Welding Rod(Best For Stick Welding Galvanized Steel)
Are you someone with a taste in premium products? Then Forney welding rods will attract you. They have been delivering quality welding products for the masses since 1932.
Versatility is something admirable with these rods. They work so great with AC, DCEP, DCEN no matter which ones you have, you get the performance you desire.
Along with that you don't have to worry about low amperage when working with these ones. Because even on low amperage like 30amp this will work fine.
These are some great welding rods for welding on thin materials solely because of their small diameter. You get clean and nice beads on your every weld, especially on mild steel. This one is compatible to any welder type even all function welding machine.
What We Liked
These welding rods work on every polarity whether it's AC or DCEP or DCEN that doesn't matter.
Using these rods will take away all of your worries about ugly-looking welds as they provide clean welds on any thin metal.
You can use these on a lower amperage even as low as 30amps. This is very helpful for welding light gauge metal.
The smaller diameter with the same length gives it an advantage with thin mild steel and makes it great for using on galvanized steel as well.
You don't have to worry about leaving them on your toolbox as there is no limitation to their moisture sensitivity.
What We Didn't Like
As they have a smaller diameter these rods burn quicker than the other ones, hence you will use up more rods than usual. 
5. Forney 32005 E7014 Welding Rod
Well, you already know about the brand as we discussed earlier. And this is their second product on this list so you can guess how great the quality of their product is, right?
These rods have an all position welding feature which makes them a great option to work on any kind of project you are doing.
Using the deep penetration feature of the rods you can go weld on base materials that are dirty and rusty. Even with the painted metals you won't have to worry about welding.
A great reason to get these ones is their value for money aspect. The quality and performance you get for the money you spend on these rods are worth every penny.
What We Liked
These rods perform very well in the welding process with all position compatibility.
It comes with deep penetration that enables this one to weld through dirt, rust, and paints.
You won't have any trouble using the rods as they are beginner-friendly.
These rods work great for galvanized steel and rusty steel types. Especially if you are considering maintenance.
You get value for the money when you go with these welding rods.
What We Didn't Like
The plastic container you get with this one isn't very satisfying.
---
What You Should Consider Before Buying Electrode For Galvanized Steel
If you want to make a buying choice yourself then you have to go through some considerations. The following factors will help you decide on which one you should pick based on your needs.
Sizes Of Welding Rods & Best One For Galvanized Steel
There are a variety of sizes you get to see for welding rods such as 6010, 6013, 6011, 6012, 7024, 7014, and 7018. Not every one of them will suit the welding process of galvanized steel.
The overall best welding rod for galvanized steel is the 7018 according to expert welders. Because it suits the needs the most and is very compatible with galvanized steel. Other than that, 6013, 7014, and 6011 also work for galvanized steel.
Tensile Strength
The tensile strength of your rod should match your base metal there is nothing complicated about this. If your base metal has 60,000 psi then make sure to get a rod that has a tensile strength of 60,000 psi. You can determine that by the first two digits of AWS classification of your metal and rod.
Polarity
You have to make sure that the welding rod you choose works with your welder. There are typically three considerations to make on polarity. AC, DC positive, and DC negative.
Some rods work with AC and some work with DC but many of them will work on both polarities. Getting those kinds of rods works the best especially for galvanized steel. 
Base Metal
Last but most important is the compatibility with the base metal. You have to make sure that the rod you choose is the same metal as the base metal you will be welding on. This will give you strong weld quality.
FAQ (Frequently Asked Questions)
Below are some popular questions people have regarding welding rods for galvanized steel-
1. Can you weld galvanized steel with 7018?
A: Yes, you can once you grind off the coating of zinc from the metal. 7018 works the best for welding galvanized steel. 
2. How do you stick weld Galvanized steel?
A: To stick weld galvanized steel, first of all, you have to remove the zinc coating from the steel. You can use the inline whipping method to clear out the zinc.
Then take a large and thick rod so you can use more amperage. This will make things easy for you to fuse the joint roots. 
3. What is the best way to weld galvanized steel?
A: It's not impossible to weld galvanized steel with a welder but doing so with the zinc coating can cause a lot of issues with the weld. That's why it's best to remove the zinc coating on the area you will be welding.
From there on you can go for MIG welding which supposedly works the best. Or you can try any arc welding you want. 
4. What is the best gas for welding galvanized steel?
A: The best gas to use for galvanized steel is the carbon dioxide shielding gas because of the great penetration capability and decent splatter control. 
Final Words
In short, welding galvanized steel is a versatile process that you can do in various ways. There are lots of types of welding rods you can use as well. However, as you have already learned the best welding rods for galvanized steel are typically 7018.
And also, preferably 6011,6013, and 7014.