Welding might seem too easy, but in reality, it's a challenging job with health risks, especially around our eyes. So, to safeguard their eyes and get a good visual, welders worldwide use welding helmets.
However, as the demand for welding increases in different sectors, the competition in the welding helmet sector is increasing simultaneously. And this competition makes it challenging to pick a helmet that suits the welder's needs.
That's why I have compiled a list of the some best welding helmets for sensitive eyes with some amazing features in their respective price range.
Additionally, the buying guide I put together will help you compare the options and decide.
Why Do Welders Wear A Helmet During Welding
Our eyes are the one area that seems to get affected the most. While welding, it generates sparks, UV rays, infrared light and heat, which in some cases even cause flesh burn. Wearing a helmet makes sure your face stays safe from these.
Also, it provides much clear visibility through the dark lenses of the helmet.
Types Of Welding Helmets
Having some prior knowledge about different types of welding helmets can help you make a better purchase decision. So, let's have a quick look.
Variable shade welding helmet: This helmet allows you to choose between different shave levels, making it perfect for covering different types of welding jobs.
Fixed shade welding helmet: Just the opposite of variable shade helmets. Usually, the lens is set at shade level 10 while welding.
Passive welding helmet: This is basically the old school helmet that has one helmet and is not replaceable. They are pretty cheap too.
There are also other categories based on power sources like battery-powered and solar-powered. Some also categorize welding helmets by shape and material like leather helmets and pancake helmets.
Causes Of Eye Infection Due To Welding
The eye infection is also referred to as flash burn or welder's flash. It happens when the welder's eyes get exposed to UV Light in close proximity. Though it doesn't get too serious most of the time, you should definitely consult a doctor if the pain continues.
Additionally, you can try different home remedies like applying an ice pack, banana mash, milk or grated potato with wet cloths to eliminate the discomfort.
Find Out Some Awesome Eye Protective Welding Helmets
Jackson Safety Insight Welding Helmet
The first product on the list is my personal favorite Jackson safety insight welding helmet. Alongside me, hundreds of other users of this helmet have the nicest thing to say about it. There are many things to talk about this helmet; let's start with the viewing area.
So, the viewing area of 3.93″ x 2.36″ provides a wide view of the welding to make things easier for you.
Then there is a digital control, which lets you manually control the delay adjustments and sensitivity of the helmet.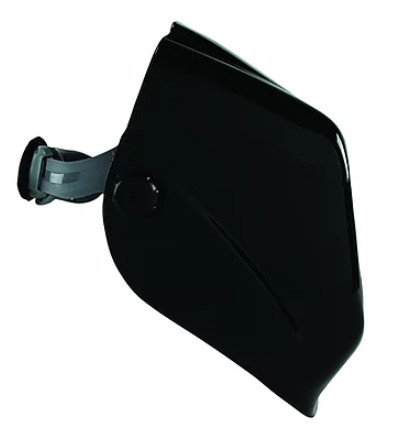 This helmet is a multipurpose one so that you can use it for MIG, TIG or any other type of welding. When doing this type of multitasking, digital adjustments can be very handy.
Things I liked
Wide viewing area
Good value for money
Digital control to calibrate helmet according to welding
Uncompromised safety with different safety certifications
Multipurpose usage
Things I disliked
It can be a bit bulky
The neck coverage might seem a bit short for some
Why you should buy
If you are looking for a good welding helmet at a lower budget, this is the one you should get. The digital adjustment is definitely the biggest selling point alongside the safety and wide viewing area as well as industry leading speed dial..
3M Speedglas Welding Helmet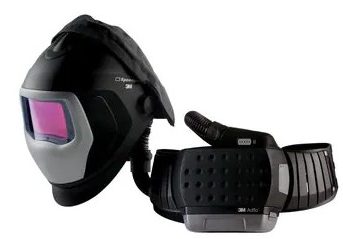 This welding is more of a professional-grade one. For professionals looking for the best functions with great clarity and comfort, 3M is offering their flagship Speedglass welding helmet.
Again, a wider vision is the key benefit of the Speedglass welding helmet alongside the superior clarity and realistic color for accurate welding.
By adding side windows, 3M has managed to provide one of the widest field of view possible. For convenience, there are two memory modes to save your helmet setting according to different work.
The control of memory mode and other functions are also outside, so you can adjust them without removing the helmet.
Things I like
Wide peripheral vision due to side windows
Adjustable head suspension to fit any head size
Memory mode to save custom helmet setting
Easy outside access to controls
Safety certifications
Things I dislike
It can be too expensive for many
Head suspension adjustment is a bit complex
Why you should buy
As you can see, this helmet has some high-end features that don't come cheap, but if you have that budget, you should invest in features like memory mode and adjustable fit.
Optrel VegaView 2.5 Welding Helmet
A great mid-budget welding helmet with a modern look, lightweight and great visibility, that's what our Optrel VegaView helmet is in short.
Automatic darkening filter with shade range 2.5 in light state, VegaView is an absolute beast to work back and forth between welding and grinding mode with this helmet.
However, that also takes a slight toll on the shade level as it can only top 12.
While talking about different features, we often forget the comfortability factor completely. Unfortunately, that won't be the case here e as VegaView offers. The helmet is super lightweight, which means you don't have to worry about a sore neck anymore.
Things I like
Super lightweight build
One of the best ADF on the market
Lowest shade level of 2.5
Great visibility in grind mode
Comfortable for long welding sessions
Things I dislike
The knobs seem cheap
Shade level only goes up to 12
Why you should buy
I totally agree that the ADF and great grind mode experience are the appealing sides of the VegaView welding helmet. But if sheer comfort is your top priority, then that should be deciding factor for you in purchasing this welding helmet.
FAQs (Frequently Asked Question)
Q: Can you see through a welding helmet?
A: Of course, you can. That's the whole point of a welding helmet, allowing you good visibility and clarity alongside protecting your eyes.
Other than when the helmet gets dark after you struck the arc, it offers regular vision to check your welding and surrounding area.
Q: How can I improve my vision while welding?
A: Your vision has to be at 100% when you are welding to get a convenient welding experience and good results. So, the first thing you can do to improve your vision is to use a high-quality helmet with a fast reaction time and variable shad level.
Secondly, you can use a sunglass inside if the protection seems insufficient. As for my last tip, always recharge your helmet before welding to get better auto-darkening, improving vision during welding.
Q: How dark should I set my welding helmet
A: The answer to this question totally depends on what type of welding job you are doing. Every type of welding is different, so is the dark level needed for them.
Usually, the shade level stays around level 9 to 13, but the best way to find out is to do some experiments and find out which darkness seems perfect for you.
Last Words
Here we are at the end of this article. I hope by now, you have got the primary idea about welding helmets for sensitive eyes alongside some great suggestions. Just grab the one that suits your need and budget, and I bet you'll have a more convenient and safe welding experience this time.