When it's about welding stainless steel, you have to choose the right welding rod or filler metal for a sturdy and perfect welding process. Also, for different grades of stainless steel, you have to use different grades of welding rods that fit different stainless steel welder. Otherwise, you can weld the steel, but it won't work for too long.
That's why in this article, we go through some of the best welding rods for stainless steel you can use. So, if you were confused about which rod to use for stainless steel welding, then this is the place you are searching.
Before deep diving, glance over the important features of welding rods for stainless steel and our top picks for
Best Welding Rod For Stainless Steel Comparison Table
What Kinds Of Welding Rod To Use For 304, 309 & 316 Stainless Steel?
Before we jump into the actual rods, let's get a general idea of what kind of rod you should be using. Typically, you may face 3 types of stainless steel that you can weld. So, we will go through which filler rod suits these 3 types of stainless steel the most.
304 Stainless Steel
For welding 304 type stainless steel, you should go for a 308-filler rod. They can keep the weld area more stabilized for a better welding experience. You can try welding with 308L as well if you are looking for low carbon content in your welding.
309 Stainless Steel
309-grade stainless steels are mild types of stainless steel; for that, you can use 309 filler rods. Such kind of welding can give you better results in heated periods and external pressure.
316 Stainless Steel
With any kind of 316 stainless steel, you must use 316 or 316L filler rods. These kinds of welding give better crack resistance and a precise bead appearance.
To keep in mind, when you weld two different types of steel, always go for a higher grade filler rod. So, for example, when welding a 304 with 316 stainless steel, you have to go for a 316 or 316L filler rod at all costs. 
Detailed Review On Best Welding Rod For Stainless Steel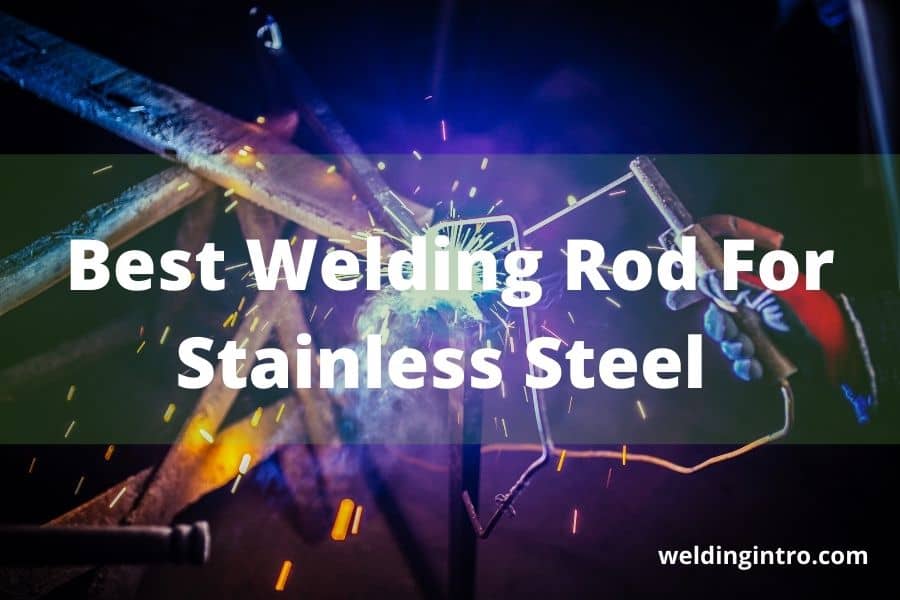 Here are some of the quality welding rods for stainless steel from different brands. You can try them out based on the model and grade you need.
#1. Welding City 5-Lb ER308L Stainless Steel Electrode (Best Tig Electrode For Stainless Steel Welding)
The whole purpose of Welding City is to provide people with quality welding products for stronger builds. They thrive in reducing the operating cost of their customers through quality products at a reasonable price.
Welding on thin stainless steel becomes a breeze with these rods as they are very thin. It gives you precise and clean beads that are quite strong at the same time. These rods are complete solution for welding thin stainless steel.
Many times, the problem you may come across with welding rods is storing them. But with this you don't have to worry about that.
The package includes a plastic tube for storing all your rods and keep them away from any damage at all.
What you will love the most is the price of the rods for the quantity you get. There are 40 welding rods in a single packaging that don't cost you much. At least, you will get a better value than your local stores.
What We Liked
These are some great thin roads for any DIY project like knitting or antennas and so on.
They are suitable for any kind of TIG welding on 304, 304L, 308, 308L, 321, 347 stainless steel.
The quality of these welding rods will surely impress you no matter what you make.
You get a good plastic tube for storing the rods.
On a single package, you get 40 rods at a lower price than local stores.
What We Didn't Like
It is little bit costly but price is nothing compared to its performance.
Buy Welding City 5-Lb ER308L from Amazon
#2. HYW ER308L Welding Rods (Best Filler Rod For 304 Stainless Steel)
HYW is proud manufacturers of quality welding materials. They have got the complete solution for all your welding needs, whether you want filler rods, welders, guns, etc. You can rely on their products solely based on the trust they have gained from people.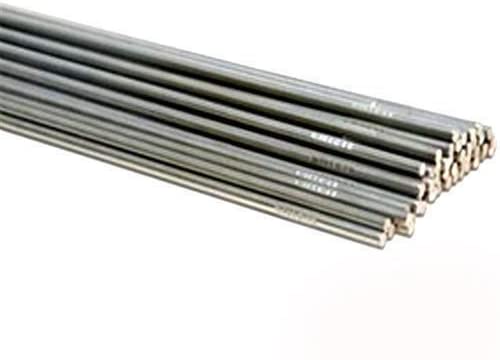 If you are not sure about how many rods you will need for a job then get them based on weight. These ones don't come in rod numbers rather they come in rod weights. So, they are the perfect package to suit your needs for a project.
These rods are immune to rust and corrosion which makes them very easy to store. You don't need to worry about damaging them without proper care.
Whether it's 304 or 308 you can weld using these rods and at a cheaper price tag that's just something surreal to have. These are surely reasonably priced and worth your money.
What We Liked
These are some high-quality TIG filler rods for 304, 304L, 308, and 308L stainless steel.
You can use them for various purposes like food-grade projects, antennas, tines, and so on.
No need to worry about rust or corrosion with these filler rods.
The package contains rods based on weights rather than several rods.
These are some value-for-money welding rods for DIY projects.
What We Didn't Like
The packaging is of cheap quality.
There is no protective tube to store the rods.
#3. Blue Demon E308L Welding Rod (Best Arc Welding Electrode For Stainless Steel)
A popular name in the welding vicinity is Blue Demon. They have some of the best welding products you can find. With quality products, top-notch service, and affordable prices, they have become the people's choice for welding items.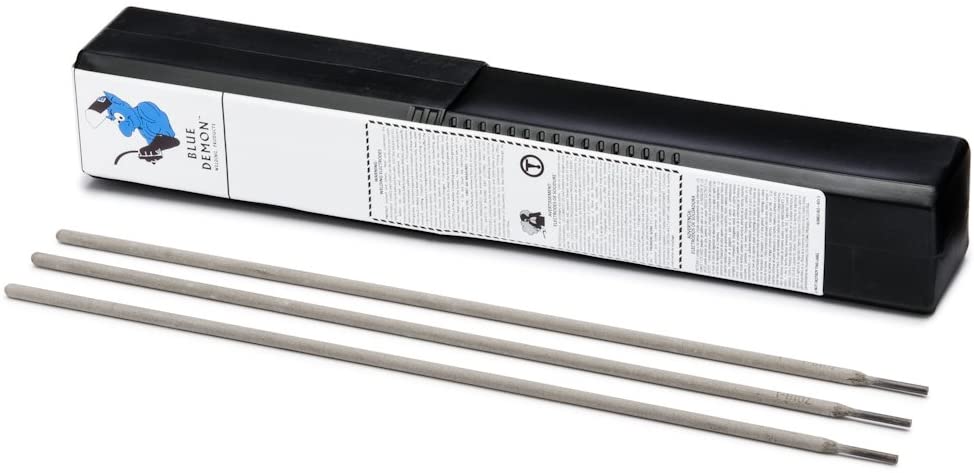 Don't like to see welding rod splattering? Well, good news for you because these come with minimal splattering while you are welding.
Welding using these rods feel satisfying because of the end results. You get to see nice and clean beads in your welding which are great in strength as well. These can even do well for medium projects as well.

For the performance you get with these rods, the prices are significantly low. These rods provide you with quick and easy burn on the welding which you don't get to see in this price point.
What We Liked
These welding rods burn very quickly and easily, even through 12-gauge stainless steel.
There are hardly any splatters you will see coming off the rods.
The beads you get from welding rods are neat and sturdy.
The quality you get is good enough for mid-heavy projects.
These come at a great price for the performance.
What We Didn't Like
The storage tube you get in the package is a bit flimsy.
This one can expose you to carbon monoxide Hexavalent chromium which are bad for health
Buy Blue Demon E308L from Amazon
#4. Forney 44557 Stainless Steel Electrode (Best Stick Welding Rod For Stainless Steel)
Delivering premium quality metalwork and welding products is the promise of Forney. They have been doing these since 1932, so you know they have the experience to serve your needs.

If single passes are your need then these ones are the best solution for you. They yield excellent results when you are working for those single passes and the beads are just too precise. Performance wise they are top notch.
The rod quality is just too good to be true. You can go for light projects as well as some heavy projects because the beads you make with these are sure to be strong. And that's what you will love about these rods.
Using the rods are hassle free and easy as you don't get too much splattering or mess from the welding. All of this makes these rods great choice for beginner welders.
What We Liked
These are some top-notch welding rods if you are looking for those single passes.
Even a beginner welder won't have any issues using these rods; they are so convenient.
You can get exceptionally precise beads with these welding rods.
Whether you want them for home DIY projects or some heavy projects, you can rely on the quality; all you have to change is the sizes.
These rods are all about premium precision and sturdiness that will never disappoint you.
What We Didn't Like
The rods are a bit expensive and premium choice, so they aren't the best for small projects.
#5. Best Tig Welding Rod For Stainless Steel (KUNWU)
Kunwu is a brand that has earned the name for providing people with quality stainless steel items. Whether it's home and kitchen supplies, tubes, pipes, medical, engineering, or automotive. And their welding rods aren't any different in quality.
In the packaging you get 14 welding rods at once which is suitable for any kind of small project you may have. Each rod is 32 inches so getting a single pack should be enough to cover for your work.
With the implementation of lower carbon element in the rods you get great resistance against corrosion. This makes your weld last much longer and give them better shape as well.
The affordability of the rods makes it more appealing to people. You can rely on the quality and quantity of the rod while paying a much lesser price than usual.
Parameter (Recommended For GTAW)
| Diameter | Tungsten | Amperage | Voltage | Flow Rate |
| --- | --- | --- | --- | --- |
| .035 in. | 0.40-1/16 | 60-120 | 12-15 | 20-30 |
| .045in. | 0.40-1/16 | 80-130 | 13-16 | 2-30 |
| 1/16in. | 1/16-3/32 | 100-150 | 14-16 | 20-30 |
| 3/32in. | 1/16-3/32 | 120-200 | 15-20 | 20-30 |
| 1/8in. | 3/32-1/8 | 150-250 | 16-20 | 20-30 |
| 5/32in. | 3/32-1/8 | 180-300 | 17-22 | 20-30 |
What We Liked
This is a great welding rod you can use for TIG welding.
It comes with 14 pieces of 32-inch rods in a single package which is great for small projects.
The low carbon content limits the chances of any intergranular corrosion in your steel.
You can weld any 304L or 308L type steel with this welding rod. It also works with 321 and 347 stainless steel.
This package comes at a great price with good quality welding.
What We Didn't Like
It's not the best rod to use for high-temperature conditions.
Also find out some Aluminum brazing rods
And Best Welding Rods For Galvanization here.
---
What To Look For In Welding Rod For Stainless Steel (Buying Guide)
There are some considerations you have to make before you even think of buying welding rods. First, because the wrong ones will do a poor job on the welding process, so, let's get through the factors quickly.
Base Metal Properties
To choose the perfect welding rod, you have to figure out what kind of base metal you have. The compatibility of the welding rod and metal will result in a strong weld.
You can check in various ways, such as using a magnet to determine whether the metal is magnetic or not. Usually, carbon and alloy steels are magnetic. However, austenitic stainless steel, manganese steel, aluminum, copper are some nonmagnetic metals.
To determine the carbon content, you can use a grinder and see the sparks. If the sparks produce more flare, then they are high in carbon and vice versa.
Tensile Strength
This is very simple to understand; if your steel has a tensile strength of 60,000 psi, then you would want the same for your welding rod.
Now to determine the tensile strength, you can check out the AWS classification of the base material and the welding rod. For example, an E6013 rod has the digits "60" initially, which means 60,000 psi, so you would need your base metal to be the same number as this. 
Welding current
Whether the rod works with AC or DC or both is a compatibility factor you have to consider. To find that out, you can simply look at the AWS classification of the rod material and check the fourth digit of that. The welding current can help you determine the penetration level of your welding rod. 
Base metal thickness, shape, and joint fit-up
If you are working with thick metal, then you should go for a rod with the ending numbers of 15,16, or maybe 18. These rods provide ductility that works best with thick materials for the tough weld.
If you are working with thin materials, you would want the number to be 10,11 or 13. These are great for soft arcs and shallow penetration.
For a joint and tight fit, you have to go with a rod with sufficient penetration like E6011. For a wide-open root, you can go with E6012 with a concave face that helps close the gaps of the metal.
FAQ (Frequently Asked Questions)
Here are some common questions people ask regarding welding rods for stainless steel-
1. Can you use 7018 or 6013 welding rods on stainless?
Yes, you can use both 7018 and 6013 rods on stainless steel. For the 6013, you have to check up on your welder's capacity. It's good for thin materials.
On the other hand, the 7018 works for welding stainless steel, but it's not great for strength and corrosion resistance. 
2. What is the best welding rod for stainless steel?
 If you are considering the grade of welding rod, then going with a 308 or 316 can be a better choice than a 304-filler rod. 
3. Do you need a special welder to weld stainless steel?
 The best welder for stainless steel is considered to be a MIG welder. They can provide solid and reliable results of welding on stainless steel.
However, you can still use TIG welders and Stick welders for welding stainless steel, but the best results come from MIG welders. 
4. Can you use a welding rod on stainless steel?
Yes, you can use a welding rod on stainless steel. In most cases, welding involves the austenitic stainless steel that comes in 304, 308, or 316 grades.
You can use the same grade of welding rod, or you can use a higher grade. But make sure not to use a lower grade welding rod than the material you will be welding. 
Final Words
What type of welding rod you need depends on what you are working with to sum it up. There is no single best welding rod for stainless steel. As these things are very technical, you have to be accurate with your requirements.
Having said that, from the above list, for any 304 or 308 stainless steel, you can go with WeldingCity 5-Lb ER308L Stainless Steel for affordability and quality. And for premium and best possible performance, Forney 44557 Stainless Steel is the way to go.
Sources:
https://exocor.com/files/products/executive-309l-856936.pdf