When it's about getting anything metal, people always look for the stainless-steel option. Because of the corrosion resistance, it's a favorite material for many people.
Being able to weld stainless steel is a great help for making different tools and items. If you can join stainless steel through welding, you will get durability and corrosion resistance to whatever you are making.
So, think of proceeding with welding stainless steel, then you should go ahead.
Don't know where to begin?
Well, that's why we are here. We will take you through everything about welding stainless. Also, you will get to know about the best welder for stainless steel in this article.
Let's hop right into it.
Checkout Our Best Pick For Best Stainless Steel Welder
---
Product
Image
Description
Included accessories
Buy Now
Weldpro Digital 200GD AC/DC Welder

1. Multi-function welder with tig/mig/stick welding facility
2. 2T & 4T switching system AC frequency
3. 200 amp tig welder suitable for stainless steel and aluminum
4. 3 years guarantee
1. Weld Torch
2. Ground Cable
3. Foot pedal
4. A flowmeter
5. 110/220 adapter
6.Hand Control Button (Air Cooled)
Check Price
LOTOS MIG175 175AMP Mig Welder

1. Comes With durable aluminum wire feeder
2. 1/4″ Aluminum: 3/16″ mild/stainless steel can be welded
3. Voltage 220/240V ac
4.You can weld stainless steel, mild steel, aluminum
5.Wire range is (.025″-. 030″)
1.Mig Torch
2.Aluminum Spool Gun
3.Ground Clamp Cable
4.Gas Hose
5.Argon Regulator
6. Contact Tips (. 023" & .035" )
7. A Welding Mask
8. Wire ( 0. 025 in. – 0. 030 inches)
Check Price
PRIMEWELD TIG/Stick Welder

1. It runs in dc current flow
2.Input voltage is 110~220V 
3. Best for welding  stainless/carbon steel, copper of any thickness.
4. Efficiency level is 85%.
5. Have duel frequency
1. A foot paddle
2. Stinger
3. A ground clamp
4. Tungsten
5. Several gas cups
6.A ergo tig -26 torch
7. gas hose

Check Price
YESWELDER 110/220V Stick Welder

1. It comes with voltage 110 & 220 ac that increase efficiency
2. Very light and strong
3. Electrode range should be 1.6-4.0 mm
4. 205amp Digital Inverter
5. Ideal For 6010, 6011, 6013 and 7018 Weld rods
1. A Earth Clamp (8ft)
2. A Electrode Holder (10ft)
3. Adapter (110/120volt)
4. A Wire Brush
Check Price
Stark Professional Portable Electric Spot Welder

1. 120v and 240v welder is available
2. Light weight & portable
3. Easily weld stainless steel to stainless steel or other material of any thickness
4. 50% duty cycle with 16amp
1. Single Phase design
2. Comes with tips
Check Price
HZXVOGEN 110V/220V Tig Welder

1.Double purpose welder (Tig or ARC MMA stick weld)
2. 2T & 4T (auto) switch
3. Stainless steel, brass, bronze, Carbon Steel, Aloy Steel, Copper & Copper Aloy can be welded with this
4. Inverter frequency 100khz
1. Tig Torch (4M Digital)
2. Electrode Holder (180 cm)
3. Gas Tube (200mm)
4. Earth Clamp (180cm)
5.Conversion Line (50cm)
Check Price
Eastwood Tig 200 Amp Dc Welder

1. It has 10-100 amp DC output inverter power supply
2. It can weld 1/4″ steel and stainless steel
3. pre gas flow- 0.5 sec and post gas flow -5 sec
4. Power is 110 to 240 volts
1. NEMA6-50P Plug
2.Gas Regulator
3. Gas Hose
4. Ground Cable with Clamp
5. 14″ TIG Torch
6. Foot Pedal
7.  3/32" Collet
8. 1/16" Red Thoriated Tungsten
Check Price
---
Types of stainless steel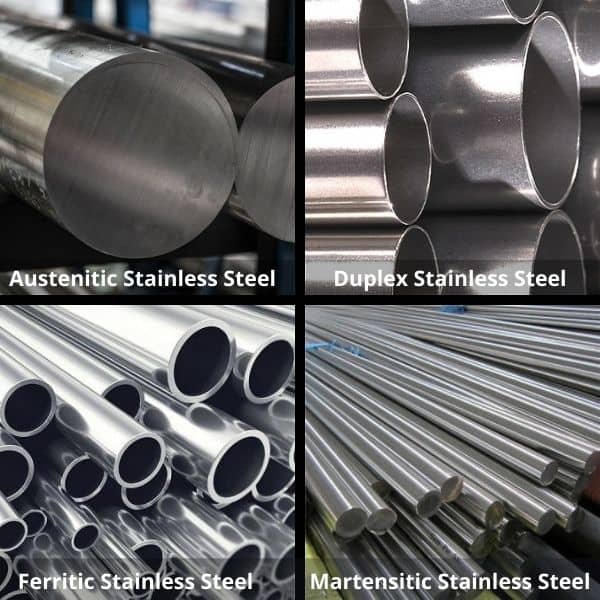 Many people are familiar with stainless steel and the base. But not many know about the different types of stainless steel out there. There are 4 types of stainless steel you can find. They are as follows-
1. Austenitic Stainless Steel
This is the most common stainless steel in use. Kitchen cutleries and different storage containers use austenitic stainless steel. The reason is their corrosion resistance is very high.
What makes this steel so popular in use is its malleability. Also, they can hold up against extreme welding. This kind of stainless steel contains a high amount of nickel. Aside from that, there is a generous amounts of chromium and molybdenum as well.
2. Ferritic Stainless Steel
Ferritic are the types of stainless steel that have some carbon in the composition. The usual amount is 0.10%. The primary element of Ferritic stainless steel is chromium content. They are highly corrosion-resistant because of the decent amounts of chromium, just like austenitic stainless steel.
The coolest part of ferritic stainless steel is that they are magnetic. When you combine that with the corrosion resistance, you get something great every time. You get to see the use of ferritic stainless steel in kitchenware, car parts, or industrial sectors.
3. Martensitic Stainless Steel:
Like ferritic stainless steel, martensitic stainless steel also comes with some carbon inside. However, the amount on this is pretty high. You get to see at least 1% of carbon in martensitic stainless steel.
Having a high amount of carbon helps this to get strength. You can harden them to the extreme to get what you want. But with a high amount of strength, this also becomes less resistant to corrosion than the other ones.
So, these are great for inside parts rather than outside. This is why people mostly use this for pumps and valves.
4. Duplex Stainless Steel
This stainless steel combines austenitic stainless steel and ferritic stainless steel. This kind of fusion makes it stronger than the other two stainless steel. Usually, the nickel component in this stainless steel is lower than austenitic steel. This is why it's also priced lower.
Due to the alloy of iron, duplex steel is highly strong and corrosion resistant. That's why duplex stainless steel is used mostly for underwater purposes.
Most Common Methods for stainless steel welding
While there is a wide variety of methods used worldwide to weld stainless steel, three are more common and popular for industrial applications.
Let's have a quick look at their usage and unique characteristics.
TIG Welding
The full meaning of TIG is Tungsten Inert Gas, referring to the use of tungsten electrode and argon gas for the welding. Depending on the project, other gases are also mixed with argon.
This method uses a low heat input, making it more suitable for precise welding jobs with thin stainless steel.
MIG Welding
MIG stands for inert metal gas, and this method has similarities with the TIG welding method we discussed before. Both methods use argon gas, but the electrode is different in MIG welding as it uses a solid filler wire.
The pulsed current supply makes it more convenient to use inside narrow joints too.
Resistance/ Spot Welding
Resistance welding, also known as spot welding, is the easiest and most efficient way of welding. For resistance welding, an electrical current goes through an electrode to melt the metal and create a metal joint.
This method is fairly easy to use with primary equipment. Another added benefit of spot welding is that it can be tailored specifically to eliminate any distortion.
Detailed Review On Best Stainless Steel Welder Machine
1. LOTOS MIG175 175AMP (Best Mig Welder For Stainless Steel)
While thinking of going into MIG welding, this can be a great place to start. It comes as a whole welding package.
The welding capacity on this one is astonishing. For stainless steel, you can go with 18 gauge -1/4". Along with that comes a reliable transformer. 
There is a spool gun included, which is always a good addition. The performance of this robust mig welder is very satisfying for beginner to intermediate welders. 
What We Liked:
The performance of this no gass MIG welder is impressive. It is easy to assemble and use right out of the box and You get complete value for the money. It has got a spool gun included which gives extra value and you do not need to buy spare one.
The spool quality is very impressive. It comes with a reliable transformer which ensures discontinued ac/dc current transmission and save electricity bill.
What We Didn't Like
The replacement parts are hard to find. You can get the parts from company.
Mostly known as the smaller brother of Primeweld's popular TIG225X, TIG200 is an equally impressive TIG welder that comes at a relatively lower price tag than its predecessor.
This TIG welder can run at both 110V and 220V, bringing versatility in terms of usage. In addition, a dual pulse frequency setting of 50 and 60 hertz allows the user to have a smooth welding experience.
At the front of the welder, there are quite a few adjustment knobs to fine-tune the welding setting according to your projects. Beside the knobs, there is a digital display that shows the power output of the welder. These knobs and the display makes this welder upper convenient to use. 
Though Primeweld's TIG200 is not as popular as the TIg225X, it replicates the quality and performance of the mentioned model.
Moreover, if you look at the price and the 3-year warranty from Primeweld, TIG200 is definitely very hard to overlook.
Eastwood TIG 200 is another great option for industrial and garage welding projects. This is a DC only welder, and still, it'll allow you to create the most beautiful metal joints from 0.25" metal sheets.
This welder has a duty circle of 60% at 190 AMPS. Though that's not the highest you'll come across, it's a pretty decent number considering the power. Additionally, you can always increase the cycle by controlling the amps.
Though Eastwood TIG 200 is considered high end, the controls are pretty easy to understand. Whether you are a beginner or a veteran welder, you'll get the hang of it in no time. Additionally, there is a separate switch for arc operation that adds more convenience to the control.
Not only the welding itself is good, but Eastwood's TiG 200 also does a great job of protecting the weld from porosity and oxidization with pre and post gas flow.
Overall, Eastwood's TG 200 is a pretty impressive welder with a decent duty cycle and power numbers. Of course, the price can be a deal-breaker for some, but that doesn't stop it from being one of the best welders for stainless steel.
Looking to get through some thick stainless-steel welding? Then using a welder for stick welding can be your way out. And this is the best you can expect.
What makes this one great is the lightweight and compact nature. You can carry it outside and work on your stainless-steel welding for stick welding with ease.
Don't let the small size and lightweight fool you because this one comes with extreme power. This will surely exceed your expectation in the power segment. You can use it to weld stainless steel of any thickness of stainless steel with suitable stick welding electrode.
What We Liked:
It provides excellent power to use on 6013, 7014 electrodes. It is super lightweight and compact and provides benefit to weld outdoor while you are in trip (whether in trips or in home welders can't live without welding). You can use this as fairly simple as playing with toys. Just keep the voltage in mind.
Moreover, it comes at an amazing price tag we know everyone has a tight budget ( Doesn't necessary if you are a millionaire, ha ha)
What We Didn't Like:
It has some issues with the arc stability (keep that thing in mind if you buy this one). It doesn't work well on 120V amperage. So inspect first the voltage of your circuit and then approach to weld.
5. Weldpro Digital Welder (Best Al-Rounder Welder For Stainless Steel)
Whether it's welding the thin parts or the thick parts of stainless steel, you can do both because this one is a welder for both TIG welding and sticks welding in a word it is a best multi function welder.
You can successfully do TIG and stick welding on this one at 120A. The digital display provides accurate information on settings and time, and the machine is easy to operate. It has a low-voltage start for easy start up and has an adjustable voltage range.
Now, this is enough to work on 1/8" 7018 rods. And the welding performance? Smooth as butter.
That takes us to the part where we praise the ease of use aspect of this welder. Along with that comes many handy features like AC balance, 2T and 4T settings, foot pedal, and so on.
What We Liked:
It is great for both TIG welding and stick welding. It's Performance is top-notch and it comes with a lot of features to love which will payoff every penny. The stability of torch and stick is commendable. It is also best for welding stainless steel exhaust.
What We Didn't Like:
It doesn't perform well on 110V.
Often, carrying or using a heavy-duty welder to your job or at home DIY projects can pose a problem. So, what can be the solution to this problem?
Well, the Stark portable spot welder machine seem like a one-stop solution that can cover a lot of ground with a single-phase welder design.
Though the product name suggests it's a profession-grade machine, don't misunderstand it. In reality, it's a beginner-friendly welder that's capable of handling both professing and DIY projects. The welder is operated through a clamp and release action, allowing you to maintain consistent current flow rates and timing.
The tips of stark professional are six-inch long with durable steel construction to give you the perfect welding result. Additionally, you'll also get an extra set of tips which you can use later.
We Liked:
Convenient use, clamping, portability and affordability, Stark's portable spot welder is a perfect blend of all of this. Especially if you are a novice welder, it can be a great choice for you.
We didn't find any negativity with this product in spot welding.
Check out The Black Friday deal For Stainless Steel Welder Deal.
7. HZXVOGEN 110V/220V (Best TIG Welder For Stainless Steel)
Want something to TIG weld your stainless-steel stuff? Then this is the thing you need. It's in an affordable price with quality performance.
Even with a cheap price tag, this one comes with many functions that you will enjoy using. Once you fire it up and start using it, the welder feels like a breeze.
Aside from that, it has got excellent DC pulse capability. Along with that spot welding, 2T and 4T welding settings make this thing much better.
Add all of that up, and you get the best TIG welder for stainless steel prepared.
What We Liked:
It provides quality performance without any hassle. You can Tig (Tungsten Inert Gas) weld with multiple welding settings which makes it suitable for various works. It comes at a very affordable price with lots of functions makes it a savvy investment.
The enjoyable smooth operation makes it worth it.
What We Didn't Like:
The torch is a little bigger making it hard to hold and weld. You can buy a new torch and assemble with the welder easily. It will cost extra money for sure but comfort is most important element in this kind of work, you know.
But not necessary if you are comfortable with the original one. Each person's choice and comfort differs as it is relative.
---
Benefits Of Stainless Steel As A Metal
There are so many benefits you get from using stainless steel. Here are some of them-
Stainless steel is mostly popular for its corrosion resistance. They don't get rusty no matter how much you soak them in water.
The durability you get from stainless steel is impressive.
Stainless steel is very easy to clean so that you can maintain hygiene. This makes it the best material for kitchen tools and appliances.
Usually, stainless steel will look premium no matter what you make out of it.
Comes with great resistance to fire and heat.
Flexibility to weld, cut, bent, formed, assembled is extremely handy in stainless steel.
Tips for welding stainless steel
Stainless steel welding can be a tricky job without proper guidelines. However, I have compiled some tips here for you to make the job easier for you.
Starting with low heat and then moving your way forward is the key to perfect welding. Most welding projects typically involve thin sheets, and if you don't start with low heat, you'll warp the steep in the future.
Always select a filler material that's compatible with welding steel. Choosing the wrong fillers can result in corrosion buildup and weak welding results.
Clean the target area before you get to welding. Usually, these areas tend to have steel residues, shop dust and other types of dust. Try an acetone wipe first and if it doesn't work, use a steel wire brush.
Any amount of air getting into wielding can be a trouble for wielding. So use as much gas as possible with a broader coverage to prevent air from getting into the weld.
Personal protection gears are a must for any welding job. Though it's not directly related to welding output, it ensures safety from fire hazards.
Buying Guide For Choosing Best Welding Machine For Stainless Steel
Now, before you get into the welding process, you will need to know about some things. The first thing to know about welding is the different types of welding you can do on stainless steel.
You have to buy your welder based on the welding type you will be working with. Along with that, you will need some tools. And here's the guide to all that. 
Types Of Welding Machines For Stainless Steel
Here are the different types of welder you will find. You need to choose one of your choice for welding stainless steel and join together. They are-
1. MIG Welder or Metal Arc Welder
MIG welders are the most common and popular choice of welding. Because they are very easy to use and don't require too much effort, it's almost a semi-automatic process which is very obliging for a beginner welder.
If you can correctly do it, you will get a strong welding performance. They maybe gas or gasless MiG welders.
Using MIG welding will give you cleaner welding with higher speed. Also, it's the easier welding process you can learn.
2. TIG Welder or Tungsten Arc Welder
In the TIG welding process, you will be using a Tungsten electrode to make the weld. No atmospheric contamination can affect the welding because of the argon gas shield. TIG welders are great for welding thin parts of stainless steel. It gives you excellent control over the welding process and lets you do strong welds.
On the drawback, it's a difficult stainless steel welding process to master. Also, it takes a bit of time to weld using a TIG welder. However, the wait is surely worth it. 
3. Stick Welder
Stick welders are quite the opposite of the other ones. If you have to weld on thick materials, stick welders are your best bet. They are also suitable for outdoor windy conditions rather than indoors. It also works great on rusty metals. It's great for home maintenance work.
But there are some things you have to consider. The process is quite difficult. You will need to go through a lot of cleaning after welding. You have to change the rod on this frequently.
Spot Welder
Spot welding is a highly specialized type of welding that is relatively new to the industry. It uses electric currents, with an arc between two partners, to create contact spots on two metal pieces. This process typically requires one or two electrodes with the exact same extension length, an electrode holder, and weld joints.
The electrodes are supplied by an insulated cable when they are not in use. When the current is applied, an electric arc is created at the point where it meets the metallic surfaces. Spot welding is a process that uses high-frequency currents to join metal together. The process requires no contact with the work piece and heats the metal just enough for it to weld.
This process can be done quickly and economically and does not require expensive equipment, making it popular among manufacturers. Spot welder is often used in construction and manufacturing industries, as well as other fields such as shipyards and aerospace.
Welding Tools And Accessories
Here are some other welding tools you will need for welding –
Welding gun: A welding gun is the main component you will need for welding.
Gun liner: Gun liner is the thing that guides welding wires to the contact tip.
Wire feeder: A wire feeder is a tool that feeds the welding wire to the welding arc constantly.
Welding wire: Welding wires are the components that you use to join two metals through welding.
Cleaning brush: Cleaning brush is usually made of wire. While welding, there might be a lot of slags. To clean out the slag, you will need a wire brush. Use it to get after welding to get the proper finish.
Shielding gas: To keep your welding free from any atmospheric contamination, you will need to use gas shields. Typically, it's a mixture of argon and carbon dioxide.
Thermometers for temperature check: To check the temperature of your welding process, you will need to use a contact thermometer.
You may check out our post on welding accessories blackfriday deal.
Stainless-Steel Welding Processes (Step By Step)
Don't know the welding process for stainless steel? Well, here's how you do it step by step. 
The very first thing you have to do is put on all the protective gear—welding helmet, jackets, safety gloves, masks, welding chaps, boots, everything you have.
To find out the best filler material for your welding, you will need to look up the AISI code of your base metal.
Then, start by cleaning the base material properly. You don't want any oil, rust, or any other contamination there.
Before you start welding, make sure to keep the base metal stable. For that, you can utilize a welding clamp.
After that, set up the environment for welding. To do that, you have to feed welding wire to the wire feeder. Make sure to add some shielding gas along with it.
Here, you will have to check out something. If you go for MIG welding, then you can skip to the next step. But when you are in TIG welding, then you have to configure your welder at this point. For stainless steel, you have to go with DCEN settings.
Now, you have to set up the torch. You just put the wire inside your torch to get it ready. When you put the electrode inside, check if ¼ inch is visible or not; once it's done, activate the shielding gas.
MIG welding uses a 30-degree angle from the joint end. And for TIG welding, use a 75-degree angle on the joint edge. In the case of TIG welding, try not to touch the wire to the joint because that may add up to some extra work.
To start with the welding process, you have to draw the weld beads now. Draw the lines on the joints to the end. For TIG welding, you will have to feed filler metal constantly every few seconds.
After drawing all the beads, wait for the metal to cool down. And you are done.
That's how you can weld stainless steel with both TIG and MIG welders. One thing to keep in mind is the welding spend. Don't go through the process too fast or too slow. You can occasionally speed up in the thinner areas.
FAQs (Frequently Asked Questions)
1. Is MIG or TIG better for stainless steel?
No such comparison can be made as both are commonly used for stainless steel welding. Depending on the project and condition, welders decide which particular method will be the most effective one.
For example, projects that need delicate welding with thin stainless steel, TIG welding is a better choice. On the other hand, in bigger projects where durability is the prime concern, MIG welding is preferred there.
2. How hot is a stainless steel weld?
There is no exact answer or this question as there are lots of variants of stainless steel available out there. But if I have to warn you about the safety, keep in mind that the average stainless steel weld temperature can range between 200F to 600F.
3. Why are my stainless steel MIG welds black?
A: There are several reasons why your MIG welding can turn black. Here is some potential cause of this discoloration:
a) Inaccurate gas flow
b) Wrong travel direction
c) Using the gun at a wrong angle
d) Incorrect shielding gas
e) Inconsistent travel speed
4. Do I need to preheat stainless steel before welding?
Again, whether you'll require preheating depends on the type of stainless steel you are welding. However, preheating is the best way most of the time as it comes with a few benefits.
For example, preheating prevents micro-structure buildup during welding and minimize the area affected by heat. Additionally, it slows down the cooling rate of the welding, which prevents cracking in the welded area.
5. Which stainless steel is easiest to weld?
Among different types of stainless steel, Ferritic steel is known to be the easiest to weld. Almost all the types of steel we know have chromium as well as different alloying elements.
However, in ferritic steel, the presented of these elements are relatively lower, which makes it the easiest steel to weld.
6. What welder is best for stainless steel?
 Mig welding is more stronger and solid as well as reliable welding technique for stainless steel. If you are welding thick material then mig welding is best choice. For welding stainless steel sheets, Tig welder is perfect choice.
From my research I have found LOTOS MIG175 as best mig welder for stainless steel & Prime weld tig welder as the best tig welder for stainless steel.
7. What gas do you use for MIG weld stainless
Argon and carbon dioxide mix is common gas for mig welding ss steel. You may use helium along with the Argon and carbon dioxide to get special works done.
8. Which type of stainless steel is not weldable?
Martensitic specially 403, 410, and 420 are grades of stainless steel that are difficult to weld. Other than above mentioned Martensitic grade (403, 410, and 420) are nearly impossible to weld.
9. Can you use 100% pure argon for MIG welding stainless?
It is not recommended to use 100% argon in mig welding stainless steel. Because it will produce more spatter and uneven, weak and bad quality weld over the metal.
10. Can you weld stainless steel with normal welder?
  You can weld stainless steel with Stick, Tig, Mig, Flux core welder even with spot welder. Though each welding technique will produce slightly different output, you can successfully join two metal together.
Last Words
All in all, stainless steel welding isn't that difficult of a job. Once you know all the ins and outs of it, you can master the process. And when you have the best welder your work to weld stainless steel becomes easier.
Whether it's MIG, TIG, or stick welding, you will come out good with your work. I hope this helps you find what you were looking for.
---
Related Articles
Sources: