Understanding the basics of a Mig welder liner is crucial, whether you're a pro or a novice. That's what I'll walk you through right here in this article. Basically mig welding liner is a tube that guides the wire from wire feeder in mig welder box to the mig gun contact tip. It is a conduit that connects the mig tips to wire feeder. This essential component plays a key role in improving your welding performance.
So, without more chit-chat, let's get into the details of it along with my some best selections on the MIG liner.
Lists Of Best Mig Wire Liners
Lincoln Mig Gun Liner (Best Overall)
Welding City Steel Liner (Best Stainless Steel Liner)
Miller Welding Cable Liner (Best For Beginners)
Hobart 196139 Liner (Editors Choice)
Tweco 1420-1113 Conduit Liner (Best For Universality)
Why is Mig Welder Liner Important?
Hands down, the MIG wire liner is an essential as well as a basic part of the MIG gun. It plays a significant role in guiding the wire from the feeder via gun cable to welding area.
So if your MIG welder liner performs inappropriately, then the gun will eventually turn valueless and produce worst result. That's why it is considered a vital part of mig welding machine.
Best MIG Welder Liner (Ultimate Review)
Here are my top pics on the MIG liner, including their reviews, pros, and cons.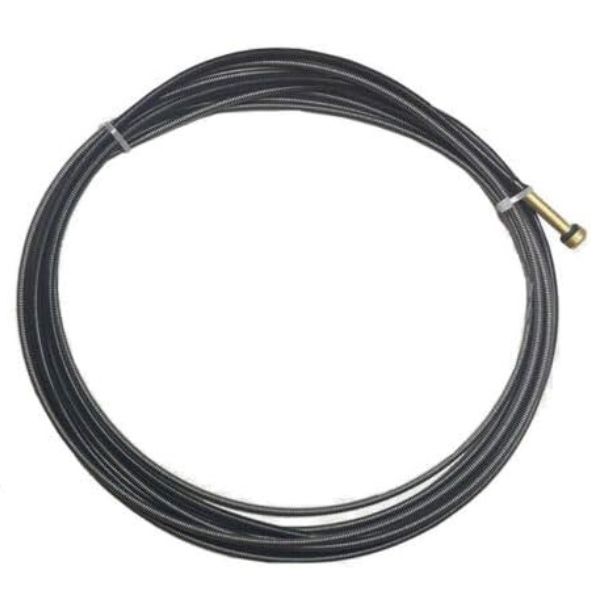 From K530-1 to K530-6 models, the Lincoln Mig Gun Liner is compatible with all to fill your needs. Coming in a size of around 15ft, it is going to match different types of MIG guns with different sizes, including 12, 10, and 15 ft. guns.
No matter which diameter you want to use, this super-effective liner will feed the majority, such as .023", .025", .024", .035", and .030". And guess what? Lincoln Mig Gun Liner is capable of feeding both flux-cored and solid wires.
So, it's good to have such a welder liner to take your welding experience to a new height.
Good Sides
The 15ft liner matches several-sized guns
Able to feed different diameter wire sizes
Compatible with flux-cored and solid wires
Downsides
Not the best choice for aluminum wires
So, do you prefer a MIG liner for stainless steel wire? You may prefer stainless steel wire liner as they are corrosion free in nature.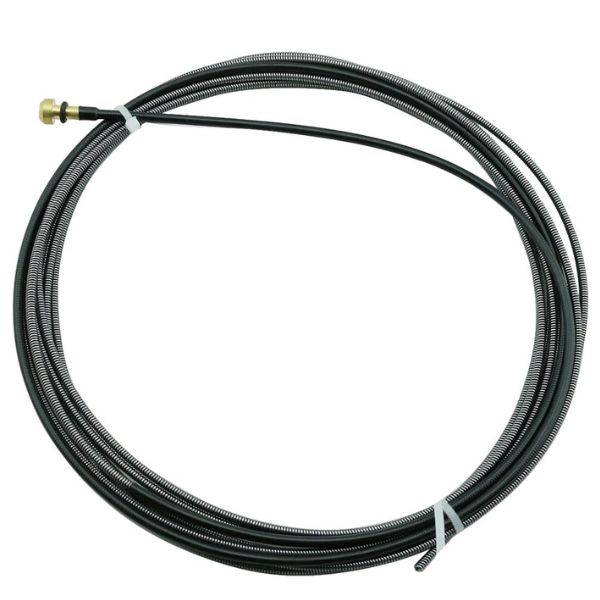 I'd strongly recommend giving the Welding City Steel Liner a try for stainless steel welder gun liner. This US-based product comes in top-notch quality and features "Tweco style" to make it unique and stand out.
Like my previous choice, this one also comes in 15ft long to match numerous diameter wires, from 10 ft. to 15 ft. MIG guns. Alongside that, Welding City Liner matches hard alloy and stainless steel wires, making it a versatile welder liner around the current shops.
Lastly, I've found this one less expensive than the previous model.
Good Sides
Top-quality Tweco style
Accommodates both hard alloy and steel wires
15ft and suitable for different diameter wires
Downsides
Tightening it is a bit challenging at times
On list number 3, I've got the Miller Liner designed for the Millermatic series. Coming in 15 ft. long, you're allowed to use it on a couple of different mig guns like 15, 12, or even 10 ft.
Thanks to its efficient size, the liner can feed various diameter sizes, from .030" to .035". Although it suits almost every Millermatic feed gun, still you shouldn't pick this up for miller cricket.
What's more?
Let's talk about its installation. Trust me; you'll find it way easier than your typical welder liner. And the price seems to be affordable too, making it both beginner-friendly as well as budget-friendly.
Good Sides
Matches different MIG guns
Friendly with .030" to .035" wire diameters
Affordable and relatively easy to install
Downside
Doesn't match millet cricket
Do you have the ability to spend a fortune in terms of getting the best MIG welder liner?
If your answer is "yes," then you must get yourself the Hobart 196139. Easy-peasy installation, ideal length, optimal longevity, you name it; this one right here can easily match any wire diameters ranging from .023" to .035: which is great.
If you find it too long for your welding gun, feel free to cut up the extra-long part of it, and it is hassle-free. And the best part is that it's suitable for both flux-cored, alloy steel, and stainless steel wires.
Good Sides
Versatile and very easy to setup
Easily fits .023" to .035" wire diameters
Way long-lasting than the traditional liners
Downsides
Will cost you a pretty penny
Here, I'm going to wrap up the list with a universal welder liner from the Tweco brand. I don't know whether the brand name is familiar to you or not. But if you try this particular liner, you'll love it as it is ideal for almost every MIG gun brand.
This "ready-to-use" conduit liner ensures hassle-free installation. Besides, its 15ft. universal length makes it a nice option for .030" to .035" Mig wire filler.
Good Sides
Universal liner fits various Mig gun brands
Reduces corrosion for its spring wire (zinc-plated)
Best for your .030" to .035" MIG wire
---
---
Types of Mig Welding Liners
In general, there are several types of liners available around the stores. That said, when it comes to the best performance, these are my 3 go-to ever.
Check them out:
1. Steel Liners for MIG Gun
Here comes the traditional MIG gun liner from steel that has a variety of usage these days. Steel liners tend to be more rigid, cost-effective, and flexible. Seasoned welders rely on it quite often as they suit mild steel most, including ER70S-6, ER70S-3, and so on.
Generally, a steel liner is abrasive on silicon bronze, aluminum, and such soft wires. Either go for a normal steel liner or the insulated one, depending on your needs and requirements.
2. Plastic Liners for MIG Gun
Apart from the cost-effective "steel liners," there are also a couple of plastic liners available for your Mig gun. Although every type of plastic liner looks almost alike, they must still be ideal for different projects.
Let's get familiar with them right away:
PTFE (Teflon): For those needing a Mig gun liner to perform high heat projects, try out the Teflon plastic liner. With decent resistance against abrasion, it comes at a high melting temperature. Instead of an air-cooling gun, PTFE is friendly with water-cooling torches.
PA (Polyamide): Filled with carbon nylon, many expert welders love to use it in relatively low-temp projects. If you're someone who needs to have a plastic liner for tiny gauge aluminum, silicon bronze, or aluminum wires, simply go for the polyamide.
CTFE (Carbon Teflon): Let it be flux-cored wire, ER309, or ER308; Carbon Teflon suits pretty well to get your job done. Moreover, it works just fine with ER5356 and such kinds of aluminum as well. Unlike the typical plastic liners you use, CTFE has more ability to resist temperature.
PTFE High-Density (Teflon): Last but certainly not least, this one is so popular among pro welders for its extended service life. From stiff to abrasive to softer wires, this liner works really pretty well on every kind of component.
3. Jump Liners for MIG Gun (Neck Liners)
Do you want to enhance your wire liner's lifespan?
If so, then neck liners are what you might be searching for. They are basically tiny liners with a short collet, which stands in the welding torch. Using such a liner is convenient, time-saving, as well as cost-saving as they don't use excessive material. And needless to say, it is more ecological than the typical ones.
Whether it is a manual or robotic welding project, jump liners can do it all.
What Mig Liner To Use for Aluminum Welding
After looking at so many different types of MIG liners, you may ask yourself, which one is ideal for aluminum? Well, let me describe it right here down below.
When it comes down to welding aluminum, Teflon stands out as its soft material is highly capable of reducing feed and, at the same time, scratching or scoring wire of the aluminum.
On top of that, it's suitable for high heat projects, which generally use torches (water-cooled) and brass jump liners. Compared to polyethylene, it includes relatively more melting temperature to get your work done.
Talking about the size, it is available in a couple of different choices out there, from 3M to 5M or even more! And the good thing is that a short-sized 3M Teflon MIG Liner is enough for 1mm to 1.2mm aluminum wire.
What Mig Liner To Use for Stainless Steel Welding
As I've mentioned earlier, steel liners have several uses by both novice and expert welders for their excellent balance, flexibility, rigidity, cost-effectiveness, and overall performance. Let me describe more about it so that you can know why it stands out, particularly for stainless steel.
Indeed, the majority of standard stainless steel wire suit steel liners. Unlike the mainstream, they are comparatively more resistant. Plus, they appear to be abrasive on some of the softer-type wires, such as silicon bronze, aluminum, cored wire, etc.
Speaking of the types, there are basically two variations in steel liners: insulated and normal. The normal liner can be enough for those who utilize dedicated gas onto their MIG gun.
In contrast, if you are someone who utilizes a gun that establishes gas via cable instead of a dedicated line, feel free to get your hands on the insulated one.
As for the size, the current market features tons of different choices out there. Among them, I've found both the 15 ft. and 25 ft. more common and suitable for the majority.
---
---
Mig Welding Liner Problems and How to Solve?
You may notice 2 significant problems in your Mig liner from time to time. And to help you get rid of them, let me show you some of their causes and how to solve them:
1. Problem-1: Erratic Wire Feeding
Such a problem occurs if the liner turns worn out in some specific spots. Moreover, too much dust build-up and improper wire trimming during replacement may also be the common reason behind it.
Solutions:
You'll need to change/replace the completely worn-out liner.
Ensure to trim the liner in an accurate way. That mustn't be too short or too long.
2. Problem-2: Loose Cable Connection
Note that extreme heat build-up and discolored liner are the two common symptoms of electrical short. It happens because of too much loss of electricity at the arc.
Solutions:
If the cable gets too discolored due to extreme heat build-up, you'll need to replace it with a new one.
How to Change Liner and Install New One
Changing liner isn't rocket science. Still, you need to follow some specific steps to do that, and these are given below:
Unscrewing the nut on the liner is what you will do at first using a spanner. And this will be available with the welding torch you purchased.
Pull out the liner right away from your Mig gun. While doing this, there is no need to provide excess pressure out there.
Let's feed the cleaned/newer liner to your MIG gun. Make sure the gun is in a straight direction.
Push that liner slowly and as gently as possible. DON'T RUSH at all. Now, make a connection between the liner and holding nut and Voila. It's done.
Are MIG Gun Liners Universal?
Although welding guns come in different specs and functionalities, MIG gun liners are usually made in a general size to match every gun perfectly. From the length to the wire's diameter, everything will appear to be universal. Check the article to learn this topic in details.
How to Clean Liner?
Here are the 3 easiest steps for cleaning liner:
Step-1: Unfastening Liner Nuts
For this step, get yourself a spanner for unfastening liner nuts. Thus, you're allowed to remove it from the Mig gun you use.
Step-2: Blowing Out the Liner Right Away
Get your hands on a piece of compressed air can or something like that to blow it straight away in bursts via the dirty existing liner. This way, you can cast metal powders away and keep that stuff in a "spick-and-span" condition.
Step-3: Observing the Liner
Let's notice the liner for kinks when you clean that. Find out whether the weld begins to get too much drag or not. If everything seems okay, then congrats as you've cleaned up the liner.
Final Words
The comprehensive guide on MIG welder liner shows you almost all the nooks and crannies you're searching for to get the most out of it. Plus, I've shared my ultimate choices on welder liners.
And depending on your needs and budget, any of them can be your go-to for upcoming projects.
Related Article