Due to the peculiar "curved" and long shape, you'll need to join exhaust pipes by parts. That's where people go for welding. But welding requires complex steps and powerful tools. Also welding can be dangerous if done incorrectly. So for beginners it maybe unwise to weld if there is another option available.
So is there any method for joining exhaust pipes without welding?
To get the answer with details, stay connected right here.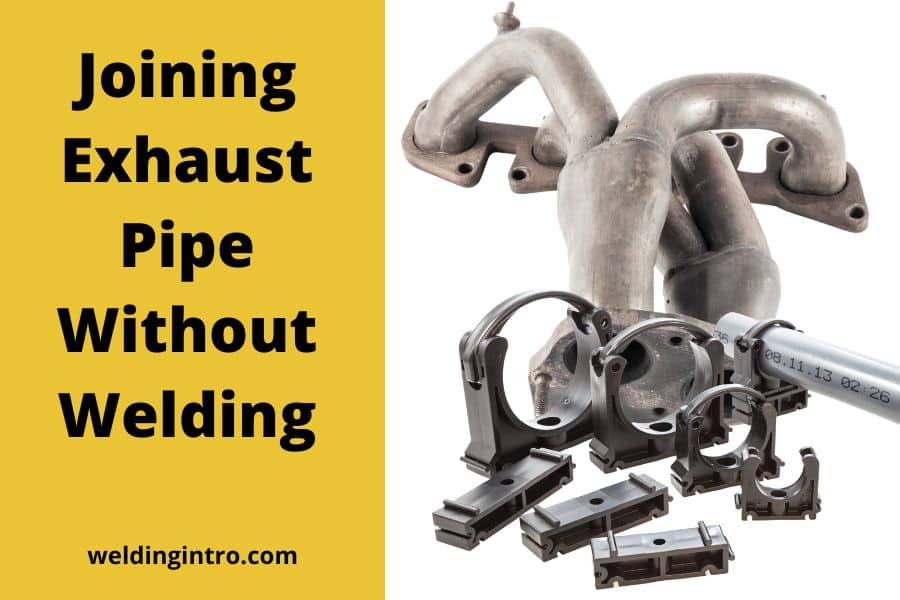 Is It Possible to Join Exhaust without Welding?
There is a misconception among some welders that it isn't possible to join exhaust with the help of welding. But guess what? It's absolutely possible if you take assistance from exhaust clamps in place of welding.
Ask how?
Well, you'll be happy to know that clamping has the same level of stability. Plus, they appear to be easier when it comes to repairing.
Ways to Connect Exhaust Without Welding
Don't you want to get into the trouble of welding to connect the exhaust? No problem at all! For beginners, so many different ways are available to do that.
Here comes the 3 must-try methods:
1. Using Band Clamp Sleeve
If the exhaust pipe is straightly connected yet not much better on a curve or bend, feel free to utilize such a clamp. You can find band clamp sleeves as both wide or narrow units, and that too within relatively more width.
A copper RTV plays a key role in helping the clamp seal, especially when you combine or replace the old pipe. But for the new pipe, you won't require RTV, so it can easily both together.
2. Getting A U-bolt Clamp
If you ask me which clamp is more usable for attaching exhaust pipes, I'd say it is nothing but the "U-bolt clamp." For a safe connection, a single pipe requires to include a flare so that it fits perfectly over the other one.
Along with replacing U-bolts, feel free to spend on pre-built exhaust pipe to modify the section correctly.
3. Utilizing Braided Pipe
Indeed, braided pipe tends to be more flexible and includes long and short lengths. So, depending on the requirement, you're allowed to choose the one that suits you best.
Unlike the typical rubber pipes, they can withstand comparatively more pressure. More interestingly, it's known for its better flow and excellent heat dissipation.
# How to Clamp Exhaust Pipes Together?
Let's read further to know whether you can use a clamp for connecting exhausts or not. If yes, then what do you need to follow-
Can You Use Clamp to Connect Exhausts?
Of course, you can. In fact, clamps are one of the safest and most reliable choices for beginners in terms of connecting exhausts. These days, different types of clamps are available with different characteristics, helping you get your work done at your convenience.
What to Consider Doing That?
Before you jump right into the steps, consider a couple of things to complete the task successfully. For instance –
Don't forget to put on safety dresses before you start connecting exhausts. I've seen many people who mistake overlooking the necessity of goggles and gloves and then end up with serious injuries/accidents.
Nuts and bolts are just enough to hold the exhaust pipe clamps together tightly. So don't try anything fancy, which may eventually ruin your entire hard work!
As you already know, there are several types of exhaust clamps available. So you must choose the one that you can utilize in a perfect way for your exhausts.
Even after using nuts and bolts, if you still notice any kind of leakage around the pipes, you'll have to seal them using either epoxy bond or exhaust tape.
How to Do That (Step by Step Guide)
Let me cut to the chase by showing you how to clamp exhaust pipes together by following some basic steps:
Disassembling the Clamp
To do that safely, you'll first need to loosen each clamp carefully. Afterward, take off the hex nuts from the bolt. And this will be kind of "u-shaped," keep in mind.
Considering the Saddle Placement
Over the exhaust pipe connection, placing the saddle is what you'll do next. After that, slide it smoothly and make sure you thread a single nut (hex) on each u-bolt's leg-side. In this particular stage, you mustn't tighten the nuts.
Don't forget to gently pressurize the exhaust's connection so that you can settle it appropriately.
Setting the Ratchet & Nut
Get your hands on a piece of the socket that should perfectly match your hex nuts' size. Next, connect it straight away to that ratchet and adjust it to tighten up.
Here comes a tricky step: sliding the socket on any nut will be needed. Don't provide excessive pressure while doing this. Once you've done it, securing the nut is the ultimate step. For the existing nuts (hex), follow the same method.
Time for an Experiment!
To ensure you've tightened the clamp correctly, pull it back and check everything is okay.
# How to Use Epoxy to Connect Exhaust?
Even after using clamp exhausts correctly, if you still notice any leakage or such issues, use epoxy following the directions:
Compared to the leakage or hole, the amount of epoxy should be a bit higher while applying it to cover that area.
All epoxy doesn't get dry in the same manner. Some may take a long time; others may not. So depending on the product you picked, let it get completely dry.
Once it gets dry, pay double attention to the leakage area to see whether it is okay or not.
What Type of Epoxy to Use to Join Exhaust?
As there are different types of epoxy available in the market, I'd recommend the slow-resin for joining exhaust. Although it will take more time to get dry, the level of rigidity and stability will be way higher.
Last Words
Joining exhaust pipes without welding becomes a piece of cake for you if you've gone through this complete article. Make sure to get the right exhaust clamp for performing the task correctly. And never forget to wear safety gear.
After all, safety comes first.
Related Article