All the welders are familiar with the scenario when the spatter gets all over the surface after you spend hours carefully welding something. While completely removing the spatter is not possible, the anti-spatter spray or gel prevents the spatters from sticking to the welding surface.
If you share the same frustration with spatters, here are some of the best anti-spatter sprays to choose for your welding projects.
List Of Best Spray & Gel For Reducing Spatter
What is Anti-Spatter Spray?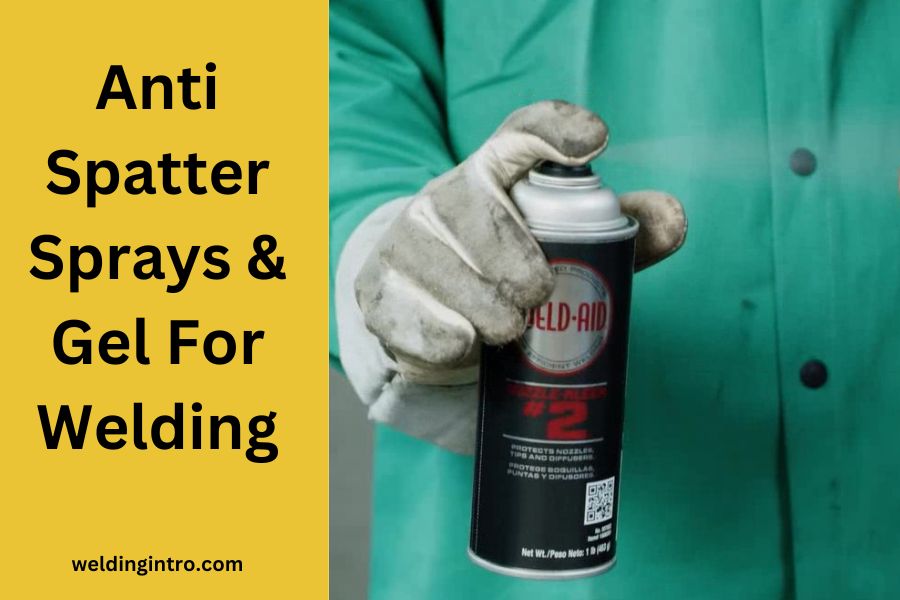 Spatters are hot particles produced during welding process, that stick to the torch gas nozzle and workpiece. There are various reasons for spatter. Spatter in nozzle prevents gas from flowing smoothly to the workpiece and as a results pores showed up in the weld seam. That's why anti-spatter spray is used.
The name Anti-spatter itself is pretty self-explanatory. Anti-spatter sprays prevent the spatters from sticking to the welding surface and torch nozzle. It is one of the important accessories for mig welding.
Because of the spray, the spatters can be easily wiped off from the surface after welding is completed. These sprays are mostly petroleum-based and contain water.
Functions & benefits of anti-spatter spray and gel
If you are still confused about how anti-spatter spray and gen function and how you can benefit from them, here is a small decision to help you.
Clean weld: This is the most obvious function and benefits as well. The spray and gel don't let the spatters stick to the surface or nozzle, resulting in a clean weld.
Reduces downtime: Spatters are bad for welding quality and take a lot of time to clean. Now that you don't have to clean it off, thanks to anti-spatter gel and spray, it can save you time.
Increases longevity: Nozzles and wire tips often get clogged due to spatters. Now that those equipment are clog-free, you can get a much longer service period out of them.
Money Saving: Anti spatter spray increases the longevity of nozzle and wire tips, that reduce the cost of replacing new tip and nozzle for Mig welding. Also it keeps the Mig tips & nozzle clean thus reducing the cost of maintenance toward the Mig torch.
Best Anti-Spatter Spray & Gel
Lets have a look on some anti-spatter spray and gels in the market. It will help you choose best one for your project I can bet.
As welders, we all know how painful those unwanted spatters are. So, if you are willing to get rid of them at the most affordable price, Weld Aid Nozzle-Kleen might be the perfect choice for you.
This aerosol spray prevents the spatters and effectively results in better welding and improved downtime.
This spray has many applications, including MIG and TIG tips, contact tips, electrode holders, and many more. The aerosol can is particularly easy to use. All you have to do is aim at the spot and spray it.
The quick-drying technology and reduced odor and smoke make this spray the perfect choice for every welding occasion. But, of course, after the application, you must wipe the spatters off and have the cleanest welding possible.
Pros
Quick drying time allows for immediate use
Clean welding with reduced downtime
Easy to apply evenly with the aerosol can
It can be applied to multiple tools and surface
Cons
The spray sometimes gets stuck inside the can
Some components are potentially harmful to health
Another excellent anti-spatter spray for welders suffering from spatters all over their weld. Weld-Kleen ant-spatter liquid is not only great for metal surfaces, but it's also plastic safe too. So you don't have to worry about using it near plastic parts.
Aside from eliminating the spatter, Weld-Kleen spray lubricates the mig wire for a consistent welding experience. This spray is specially manufactured to use in the electric field for computer components, circuit breakers, socketing, flux removal, etc.
Though the can is fairly small, all you have to do is spray it on the tip, and you are all set.
Pros
Work great on multiple surfaces, including steel and plastic
Dries quickly for quicker operation
Easy to clean up
Great for use with electronics
Cons
The stem under the cap needs
The spray doesn't work well on gun
Instead of cans, if you are looking to buy anti-spatter liquid, Simple Green has the perfect solution for you. For a competitive price, you get a gallon of anti-spatter liquid that works great on almost any surface, including steel and aluminum.
Though the application can be challenging since it's not in a spray bottle, you can always put the liquid in one.
As far as the performance goes, Simple Green anti-spatter liquid performs as good as any other spray on this list. Often welders have difficulties applying anti-spatter liquid on painted and plated surfaces.
That's the special formula from Green Store; that's not the case with this liquid.
Pros
Works on almost any welding surface
Compatible with painted and plated surface
The biodegradability makes it safe to use
Non-flammable liquid to prevent fire hazard
Cons
It doesn't work effectively once dried
There have been some rusting issues
After the liquids and sprays, if you are planning to use some gel to prevent spatter, Weld-Aid's anti-spatter gel is the perfect choice for you. There has always been confusion among welders about the effectiveness of the anti-spatter gel.
However, once you use this gel, so many cool features, like better cooling, will make you fall in love with it.
Yes, you have heard it right. This gel has the best cooling properties, offering longer nozzle and tip longevity. Safety and environmental aspects are well taken care of thanks to the gel's non-toxic and biodegradable properties.
The gel comes in two sizes, and even the 16 oz. The pack should last you a considerably long time.
Pros
Finest cooling properties for the nozzle and tip longevity
It offers better welding and reduces downtime
Biodegradable and non-toxic for sager use
Dries out quickly
Cons
Too liquid to apply on the nozzle
The can needs improvement
This magical product from Forney is manufactured to make your welding experience more consistent and flawless. One of the key problems with spatters is that it often clogs the wire outlet used for MIG welding.
This clogging often leads to inconsistent welding results. Thanks to Forney's nozzle gel, whether you are manual or automatic MIG welding, you don't have to worry about wire clogging anymore.
All you have to do is dip your nozzle in the gel, and you are good to go without any spatter. Anti-spatter liquids often complain of porosity, which is not the case for Forney nozzle gel.
Pros
Compatible with both semi and automatic welders
Prevents MIG outlet clogging
Free from porosity
Easy to use and apply
Cons
The can is not durable enough
The last option on this list is the nozzle gel from Hobart. If you are into welding, you should already know how good Hobart's products are. Like their many products, this gel is created to make welding easier by keeping the nozzle clog-free.
Unlike liquids, which you can use on different surfaces and applications, Hobart gel is only usable on nozzle heads and contact tips.
However, the gel does a great job of preventing the spatter and keeping the welding clean. Using this gel is fairly straightforward too. Just dip the nozzle in the gel without overusing it.
Then, when you are done, wipe off the nozzle, and you are done.
Pros
The finishing cleanup is very easy
Increases the nozzle longevity
It doesn't affect the welding quality
Cons
The drips when you initially start to use
---
How Spatter Ruin Your Project
You may think that spatter is not a big deal or you can easily reduce spatter at your expertise and proficiency in welding. That's true that you can reduce spatter by welding in a certain way but cannot completely prevent them. Spatter needs to be reduced because it make the welding result awful and leave you grinding, chiseling & sanding the worksite after finishing the welding.
Spatter hampers your projects as following.
Because of spatter your project looks unfinished and unprofessional
Ubiquitously sprinkling spatters ruin your day leaving you grinding them
It wastes your time
Weld quality may be hampered due to spatter in the torch contact tip
Spatter in welding gun nozzle tip blocks the gas flow and creates pores in welding seam
What To Look For In Anti-Spatter Spray
You should look for following elements in a anti-spatter spray.
Ingredients:
You should make sure that, the anti-spatter spray you buy don't contain any flammable ingredients. All of the anti-spatter spray we suggested above doesn't contain any toxic or flammable elements. They are mostly water based and silicon free.
Form Of Anti-Spatter
There are two types of anti-spatter accessories. One is in the form of gel and another in the form of spray. Both of them are easy to use and works exactly similar. The difference is in their usage process. For the gel, you will need to dip the tip of your mig gun into the gel first and then start welding. And for spray, you need to spray the anti-spatter spray on the work piece and then start welding.
Finish
The selection may depends on the expected finish of your projects. If you want paintable finish then you may use any of the suggested spray above. All of the products we suggested allow you to paint after finishing the welding. However for longevity of paints, you may use primers on the work-piece.
---
Do you need different anti-spatter spray in MIG and TIG welding?
As you have seen, anti-spatter spray can help you big time to reduce spatter. But can you use the same spray for both MIG and TIG welding?
The answer to this question is yes; most anti-spatter sprays are marked for use in both welding methods.
How to use anti-spatter sprays
Anti-spatter properties come in two forms, gel and sprays. Because of the ease of use, gels are more popular among welders.
By the by you can use anti spatter spray to prevent the droplets of molten materials sticking to the surface. Here is how to use it.
Step 1: First, give the anti-spatter can a good shake to the ingredients inside can mix. You may find the usage description at the back of the product package. Read it and shack the spray as recommended.
Step 2: Once the shaking is complete, spray a light coating over the welding surface. Overusing the spray can affect welding quality. So be aware of that.
Step 3: Most of the sprays on the market are water-based, so it's easy to dry and clean. After welding is complete, wipe down the spatter with a cloth or wire brush, and you'll end up with a spatter-free weld.
How to use anti-spatter gels
Unlike the spray, anti-spatter gel protects the nozzle and wire tip from spatters and causes clogging. Here is how you can use it.
Step 1: If your nozzle and wire tip is dirty, clean them first.
Step 2: Run starter beads to heat the nozzle and contact tip after cleaning the nozzle and tip.
Step 3: At this point, dip the nozzle and wire tip into the gel. The heat helps the nozzle and wire tip attract more gel to it.
Then start welding to finish the project
Some alternatives of anti-spatter
Many anti-spatter sprays on the market use harmful components, making you look for alternatives. Here is some easily available anti-spatter spray alternative you can try.
Last Word
That's a wrap for today. I hope my review of the anti-spatter spray will help you get some ideas about the options available on the market. Welding spatter can affect your welding in many ways, like increasing downtime and inconsistency.
But now that you know about ant-spatter sprays, you can quickly reduce the spatter and get a spatter-free weld easily.
Related Articles