If you're involved in the welding industry for years, then probably you're already familiar with one of the bests if not the best welding helmet brands named "Weldcote." Its outstanding design, build quality, and unique specs can definitely take the wow out of your lips!
However, you can't get yourself any random from the shop, it's crucial to find out the best one. And that's the reason why I've made a decision to write on a review article on Weldcote welding helmet .
In this post, you'll get to know about the top 2 ultimate choices on Weldcote welding helmets, including some expert tips to take care of your tool. I've also compiled a buyer's guide that'll make your final purchase a breeze!
Weldcote welding helmet has a pretty good name in the industry of welding. However, I've only picked the Weldcote Metals Ultraview and Weldcote Metals Klear as they're more functional, durable, and ideal for multiple applications.
Top 2 Weldcote Welding Helmets In The Market Reviewed
Check out the specs and details of my selected welding helmets from Weldcote. Let's find out which one matches your requirements most!
1. Weldcote Metals Ultraview Welding Helmet
To make your welding task much safer and even better, the Weldcote presents this super-effective welding helmet named Weldcote Metals Ultraview. From the overall design to functionality, everything seems perfect to me!
Specifications:
Here are the features of Weldcote Ultraview Welding Helmet
Technology: True Color
Welding Shade: 9-13 for welding application & 5-9 for non welding
Sensor: 4 arc
Power Source: Solar Charged
Battery: CR2450
Lens: Included
Warranty: 3 years including lens
You'll be happy to know this model features true color technology helmet, enabling you to work with maximum precision. And you can also set up the cutting/grinding shade from 5 to 9 for each and every application related to non-welding.
In order to ensure quick transition, the maker of this model has added 4 arc sensors. Furthermore, it's compatible with 9 to 13 welding shades to help you work more flexibly.
Did I mention anything about the power type? Well, unlike the mainstreams, Weldcote Metals Ultraview is well-equipped with a CR2450 solar-charge battery, providing optimum battery life so that you can work for so long at a stretch!
What about wearing it?
I'm pretty sure you'll get adequate amounts of comfort after putting it on, even for hours constantly. So at least you can say goodbye to the worst "neck pain issues" which can give you the typical welding helmets out there.
When it comes down to the viewing area, the ultraview+ offers you a 39% bigger viewing area, allowing you to get excellent view while welding.
Along with that, the digital display is the icing on the cake that can be utilized for each and every adjustment.
Drawbacks
You may need to put the helmet off while changing the settings, which might be an extra hassle for you. Plus, the maker won't give you a battery, in this case, spending extra bucks on that piece will be necessary.
Who Can Use it and Why?
Whether you're seasoned or just learning the basics of welding, the Weldcote Metals Ultraview can be used by both to take their welding skills to a whole new level! It's easy to use, comfortable, durable, and seems more functional than most of the Weldcote welding helmets out there.
---
2. Weldcote Metals Klear Welding Helmet
Featuring my 2nd pick named Weldcote Metals Klear, which looks kind of similar to the previous choice. However, this one includes some different features to meet your different needs for welding. Let's get to know!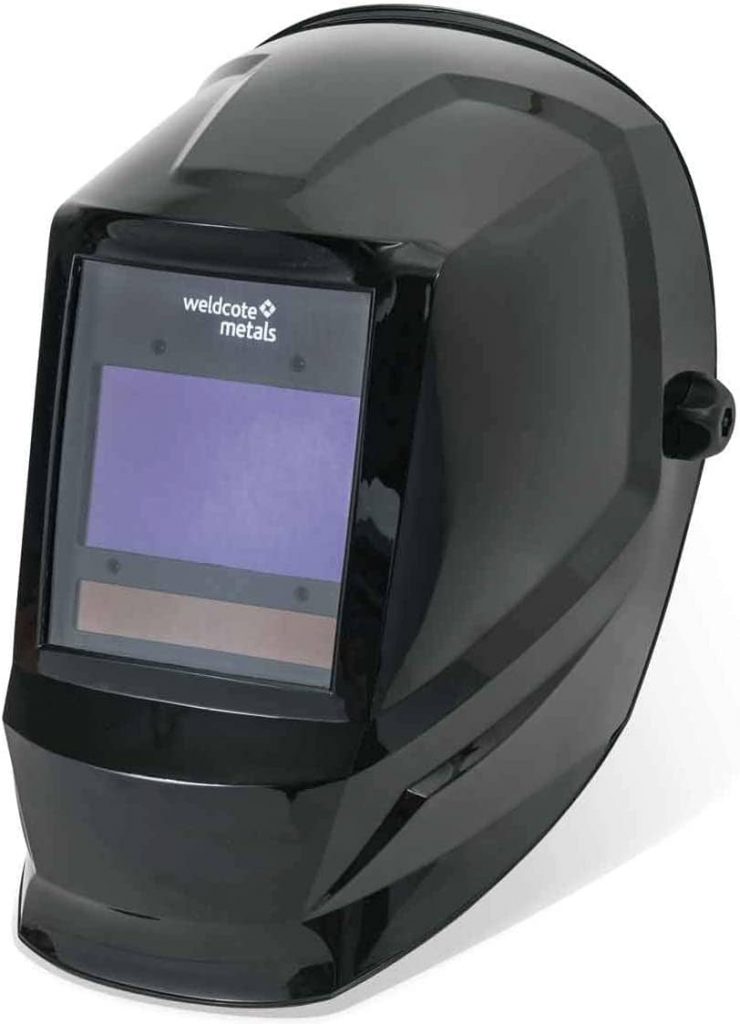 Specifications:
Let's talk about features.
Technology: True Color
Shade: 9-13
Sensor: 4 arc
Power: Solar Cells
Battery: CR2450 Lithium
Lens: LCD & Multilayer Optical Interference
Warranty: 3Years
First things first, the son of a gun is packed with a top-notch LCD, optical multilayer filter to deliver crystal clear view, and at the same time, IR/UV protection. Consequently, you can continue your welding task safely as well as accurately.
On top of that, the 4 arc sensors are designed to offer quick transition, and the range of welding shade seems to be perfect for multiple applications which are 9 to 13.
Talking about the power supply, this auto-darkening welding helmet is powered by both replaceable Lithium batteries and solar cells, ensuring ultimate functionality and strength.
The unique part? It gets a specially manufactured nylon mask, which is impact resistant and made for long. And yes, the overall construction seems pretty fine as well, thanks to its excellent build quality!
Drawbacks
Many people have found it a little uncomfortable to put on due to the adjustment issues, but this can't be your regular headache! If you get used to wearing welding helmets, the possibility of getting any discomfort can be decreased, hopefully!
Who Can Use it and Why?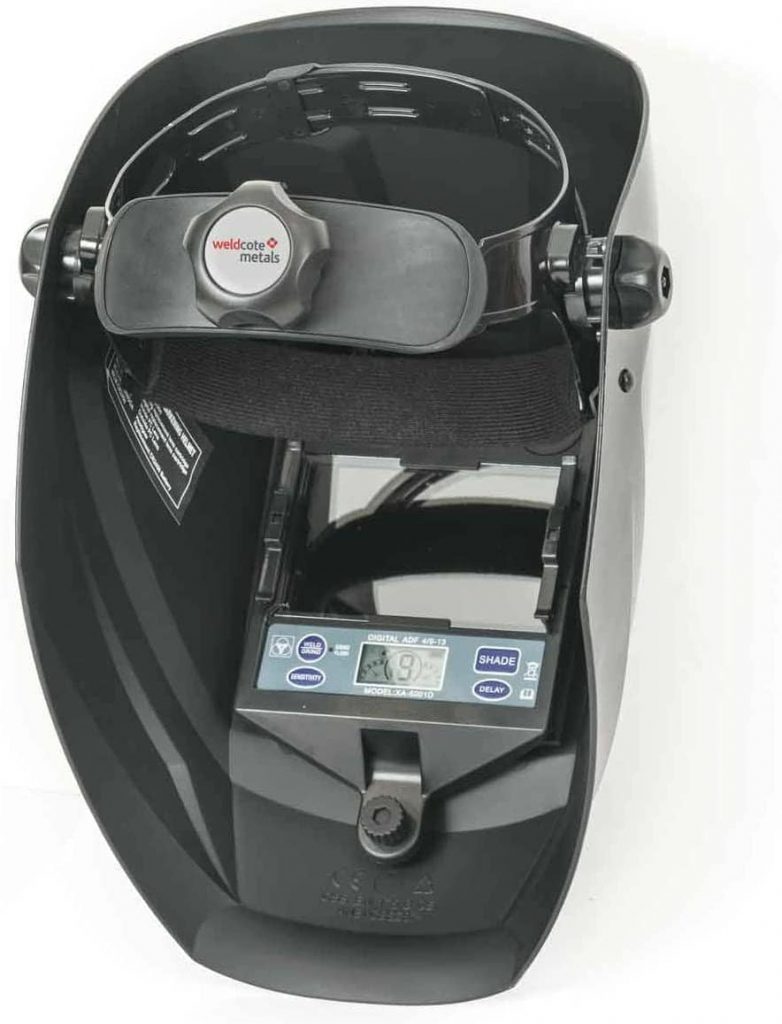 Are you looking for a welding helmet from Weldcote that's a better combination of style and lightweight design? If so, then I'm pretty sure that the Weldcote Metals Klear won't let you down!
Along with the advantages, you're getting a premium-quality LCD viewing area that can deliver clearer view and UV protection at the same time.
---
Also Checkout Welding Helmet Deals
& Pancake Hood Now.
How to Choose the Right WeldCote Welding Helmet: A Buyer's Guide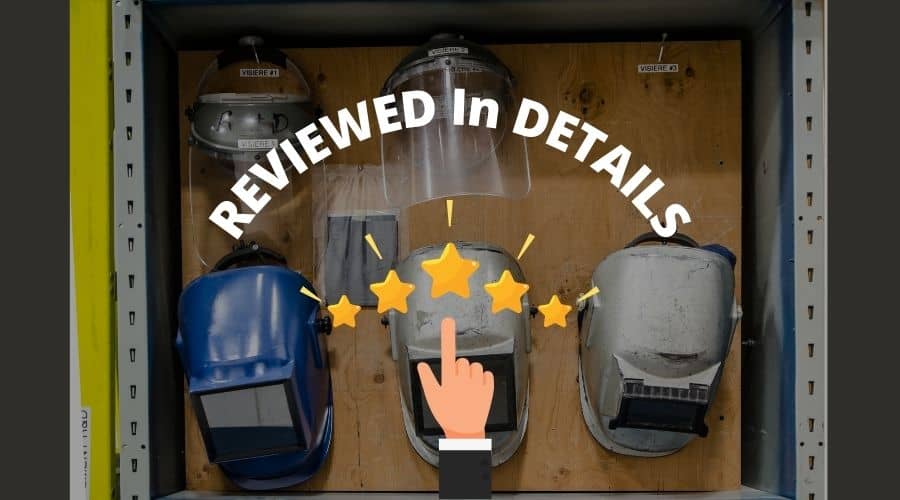 Although Weldcote has a very good name for making heaps of high-end models, it doesn't make sense to straightly jump into any of the products without proper research. There is at least a minor chance to end up with the one that isn't designed to meet your needs!
Don't be afraid, I'll make the whole task easy as falling off a log! In this buyer's guide, I've compiled all the essential features or factors that you need to look for before making an ultimate buying decision.
So let's get to know what things you need to consider:
Power Source
In general, welding helmets are packed with two power sources, including solar power and lithium batteries (both replaceable and non-replaceable). Moreover, a number of models these days are equipped with both solar and battery power.
Consequently, if any of one from them runs out unexpectedly, you'll be able to use the alternative one.
While choosing a battery-powered helmet, make sure to check if it's got the option of replaceable or not. I'd suggest getting the one that can be replaced anytime, for which you won't have to worry about the power running out.
Speaking of the solar-powered welding helmets, these are comparatively more cost-effective because you don't need to spend extra bucks on replacing batteries.
Sensors
While purchasing any auto-darkening welding helmets, it's necessary to look for how many arc sensors your helmet has. Good to know, arc sensors are liable to detect flashes in the best way possible, keeping your eyes well-protected from any danger.
Most of the Weldcote welding helmets are loaded with 3 to 4 arc sensors for optimum functionality. Although some models feature only 2, they won't be able to give you the maximum protection in terms of catching the flash.
So, in my opinion, a Weldcote welding helmet with 4 arc sensors is safer as they reduce the chance of the welding helmet failing to get flashes.
Fit
From checking the headgear adjustment settings to considering the overall weight, you should look for a number of things to ensure a perfect fitting. Having a helmet of fatigue-free headgear along with a lightweight structure will help you stay in a comfort zone, even if you work for too long!
Period of Adjustment of the Lens
To take your welding performance to the next level, you'll be needed to get a helmet that features adjustable lens settings. There are indeed plenty of different options to choose from, ranging from 5 to 9, 9 to 13, and a lot more.
Thankfully, both of the ranges I've mentioned above are suitable for low-to-mid amps where it's a little bit difficult seeing the arc.
View Capabilities
The good thing about the Weldcote welding helmet is that it offers an excellent view to the users for which they can work with maximum accuracy. But before you buy, make sure it has got true color technology that'll help you minimize the green coloring while welding.
Along with that, having something of a multilayer filter will be effective as well, especially if a crystal clear view is what you're hungry for.
Last but certainly not least, your helmet should have the ability to deal with several applications, including MIG welding, metal production, construction, MMA, transportation, etc.
How to Take Care of Weldcote Welding Helmet?
If you love your welding gear, it's a must to take better care of them whether it's a helmet or anything else. So ensure to give the below-mentioned points a look where I've incorporated some ideas to take better care of Weldcote welding helmet:
Follow manual: We all need to follow a manual that the manufacturer gives you to get familiar with your desired tool.
Keep it in a safe place: After completing your welding task on a daily basis, confirm that you've placed it in a completely dry and safe place to ensure ultimate longevity.
Keep cleaning: Along with keeping your welding helmet in a safe place, it's equally important to keep this thing clean as much as possible. Get a piece of towel or rag and wipe your helmet off after each use.
Repairs if it needs: Although the Weldcote welding helmet doesn't require frequent repairing or maintenance, it may need minor repairing from time to time. So when you notice your welding helmet requires repair, feel free to go for it.
Final Thoughts
Weldcote welding helmets have all the necessary features you're looking for in order to improve your welding performance a lot more!
And I'm pretty sure you've already made a decision about your final purchase. Yep, any of one from my Weldcote welding helmet reviews can be your go-to for your upcoming welding projects.
Wish you good luck and happy welding!