Flux core welding is a very valuable skill and it offers many advantages, such as portability and versatility. It makes welding an attractive choice for beginners.
I understand that you're looking for a welding machine that delivers great results. That's why I'm here to introduce you to some of the best flux core welders for beginners. And it offers you user-friendly features. I will also describe some benefits of flux core welders such as:
1. Portability
2. All-Position Welding
3. Versatility
4. Cost-Effective
5. Wind Tolerance
Alright, now let's dive into this welding journey and kickstart your welding adventure.
If you are in hurry, check out our top 3 selected flux welder.
Best Flux Core Welder for Beginners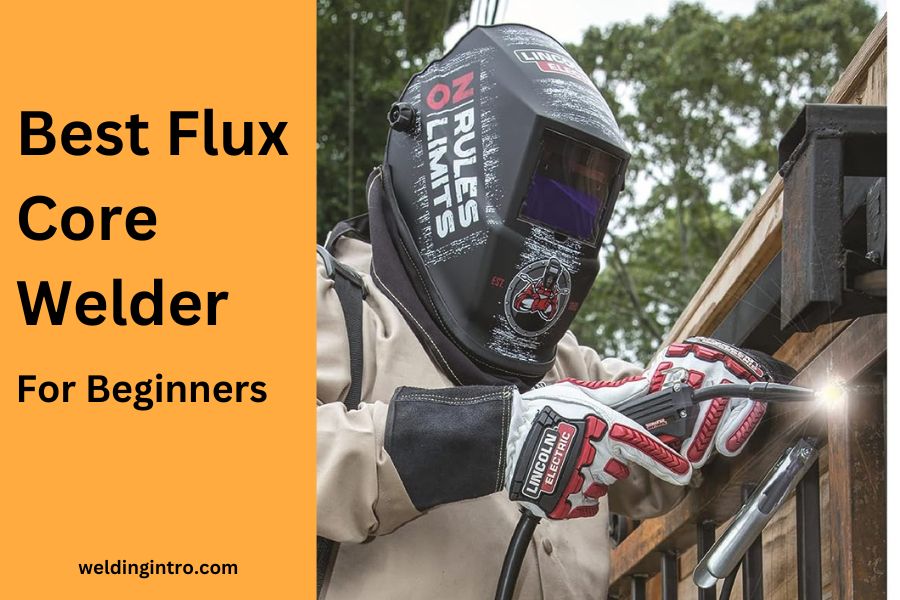 Picking the flux core welder is a choice that can influence your welding experience. To give you a head start in the world of welding, I've put together a selection of flux core welders for beginners. Let's dive in and see what they have to offer-
What it includes:
It includes following accessories to enhance your welding experience.
Nozzle
work cable
contact tip &
clamps
The Lincoln 90i Welder is a small and portable welding machine. It caters to beginners and smaller welding projects. Additionally, it comes with a protective metal case which provides you to ensure the safety of your welding gear in weather conditions.
With its lightweight design of 15 lbs. and the convenience of a shoulder strap, you can carry it from one welding task to another. It is a best choice for beginners or anyone who is looking for a transportable option.
Upsides
1. Portability
2. Metal protective case
3. Provides durability and longevity in welding
4. Ease of Use
5. Perfect for beginners
6. Highly accessible
7. Well-suited for small welding jobs
Downsides
1. May not be suitable for heavy-duty welding tasks.
2. Limited speed adjustment.
The Lincoln 90i FC Flux Core Welder has been designed with beginners, in mind. Its easy to configure facility makes it good choice for newbies. Also you get the welder pre-configured as per beginning need though you need to change the settings depending on metal thickness and welding project. Whether you're making adjustments or refining your welding technique, the procedure is simple.
It is easy to setup the welder. You can complete the setup process quickly. Despite its beginner nature, this welder still offers options for customizable setting. It allows you to have precise control, over your welding projects. With the 120v input power you can weld 1/4″ metal easily. The welder is powered up by inverter power source and makes it a good choice in efficiency compared to traditional welders.
Performance:
When it comes to performance this machine provides reliable results without the complexity that comes with advanced models. Whether you're working with stainless steel or other materials, it can handle the job.
With a 135 Amp output, this welder is capable of handling mild steel up to 5/32″ thick with 110/120v input voltage. This makes it versatile for a range of welding projects.
Whether you're using 0.030″ or 0.035″ flux core wire this welder has designed to deliver best performance.
But wait there's more!
The TOOLIOM 135A Flux Core Welder is versatile. It offers multi-process capabilities including Gasless MIG, Stick, and Lift TIG welding options. This means you have the flexibility to choose the welding method for your project needs.
Upsides
1. Providing versatility for a wide range of projects
2. Energy-efficient and reliable
3. Compact and easy to transport
4. User-Friendly Interface
5. Suitable for various projects
6. Portable
Downside
1. May not be as robust as dedicated TIG welders for TIG projects.
2. Not Suitable for Heavy Industrial Use.
The control panel has been designed with clear labeling. And you can adjust to rank with ease of use. By allowing seamless switching, Welding makes the welding process easier. Eliminates the need to use machines between Flux Core MIG, Lift TIG, and Stick welding modes.
You can set up the welder easily. For more information, you can check the user manual.
Performance:
Speaking of performance, it provides consistent and reliable results without the complexity associated. It's perfect for those starting their welding journey. On top of that you can use the welder to do 3 types of welding with single machine which is very cost-effective. It can weld 1/8″ plate with 60% duty cycle.
Featuring a 135 Amp output this welder handles steel, up to 5/32″ thick. Also, it will make it an adaptable choice for various welding projects.
Whether you're working with 0.030″ or 0.035″ flux core wire this welder has designed to deliver performance.
But that's not all there is to the YESWELDER Flux Core Welder – it's a multitasker welder. It offers welding processes, including Gasless MIG, Stick, and Lift TIG welding. This gives you the flexibility to choose the welding method for your project. Although the TIG torch is not included you can buy the YESWELDER TIG torch and use with the machine. You can buy it to unlock welding possibilities.
Upsides
1. 3-in-1 Versatility
2. Ensures accessibility
3. Enhances energy efficiency
4. User-friendly display
5. Portable Design
6. Compact size and built-in handle
Downside
1. Limited TIG welding capability.
The control panel comes with the utmost simplicity in mind. It features labeled settings and easy adjustments. Setting up this welder is a breeze due to its user design and concise user manual. because of multi-process facility, it eliminates the need for extra machine that saves money.
Performance:
When it comes to performance this welder provides high-quality welding capabilities. This welder provides dependable results without the complications that is available only in advanced machines. If you're working on steel, stainless steel or other materials allows you to create neat welds.
This amazing portable welding machine specializes in MIG welding. It gives you the flexibility to weld indoors without the need, for shielding gases.
This technology guarantees arc stability making your welding tasks effortless and efficient. Whether you're a beginner or an experienced professional, you need to adjust the voltage.
Also, you need to ensure wire feeding speed every single time.
The FORTON MIG machine has been designed with portability and ease of use in mind. It uses 0.8 1.0mm flux core wire. Delivers a 160 Amp output allowing you to weld mild steel plates up to 4mm thick. It's lightweight with weighs 5 KG. It can make it convenient to carry for any DIY project. Also, it maintenance work, repairs, metal fabrication tasks, or hobbies.
Upside
1. Gasless MIG Welding
2. Perfect for indoor welding
3. Portable Design
4. Perfect choice for DIYers
5. Automatic wire feed
6. IGBT Technology
7. Stable and efficient welding performance
8. User-Friendly Controls
Downside
1. May not suitable for TIG or Stick welding.
2. Not for Heavy-Duty Tasks.
The control panel is simple and can be easily understood designed. So the beginners can set up the welder by their own.
The FORTON MIG160E operates a built-in fan that controls the inner temperature. This feature ensures operation without generating noise. Thus creates a more pleasant working environment.
Your safety is insured with the FORTON MIG160E machine. The machine comes with safety features, like auto voltage fluctuation. It has overcurrent protection that controls the overheating.
Performance:
The FORTON MIG160E has designed for lasting performance with a 60% duty cycle. It guarantees welding performance in the long run. You can rely on this machine to handle welding sessions. Also, you can trust without compromising on the quality or durability of your work.
Moreover, the FORTON MIG160E offers a 160 Amp output capacity. It allows you to weld steel plates, up to 4mm thick with confidence. This powerful output ensures that you can tackle a range of welding tasks. Also, you can tackle from sheets to thicker materials.
This gasless MIG welder supports three welding modes. Flux MIG, Lift TIG, and MMA (Stick). It is compatible with flux core wire ranging from 0.30″ to 0.035″.
It provides flexibility for your welding projects. The HBM1200 features a dual voltage system of 110V/220V delivering a 140A output at 220V input.
This increased power enables you to weld materials ranging from 1mm to 4mm in thickness.
It comes with safety features such as over-heat protection. These ensure both your safety and the longevity of the machine. This remarkable welding tool is lightweight weighing 5kg only. It is easy to transport between welding sites and garage. Its compact yet sturdy full-metal case guarantees durability. The one-knob control system and digital display simplify the welding process.
Upsides
1. Versatility
2. Dual Voltage
3. Flexibility to work in various settings
4. Synergy Control
5. Safety protections
6. User-Friendly Interface
The synergy control takes away the need, for guessing. It automatically set up welding parameters. So, it makes the welder ideal for beginners while ensuring welding quality.
The HBM1200 comes with beginners, in mind. Its intuitive controls and clear digital display make setup and welding effortless.
With three different welding modes, you have to choose between Flux MIG, Lift TIG or MMA welding. You can take them to meet the requirements of your projects.
Performance:
The HBM1200 offers 140A output. This product makes it suitable for welding tasks on different materials. And it ranges from sheets to medium-thickness plates. Also, its Synergic MIG feature adjusts voltage and wire feeding speed.
Besides, it ensures consistent welds every time. Additionally, its portable design allows you to take this welding machine. Whether you're a welder, this tool is indispensable in your arsenal.
---
---
---
Importance of Choosing the Right Flux Core Welder
Choosing the right flux core welder cannot be overstated, for beginners. It has an impact, on your learning experience and the quality of your welding projects.
Here's why it's important:
1. Enhanced Learning Experience
A flux core welder is designed very simply for beginners. It simplifies the setup and welding procedures. Also, it reduces frustration and allows you to focus on honing your skills. This positive learning experience can be motivating and lead to progress.
2. Improved Project Outcomes
The welder you choose influences the quality of your welds and the success of your projects. A reliable flux core welder ensures welds with defects. This aspect is particularly crucial for beginners who are still perfecting their techniques. With a welder by your side, you can achieve professional-level results from the start.
3. User-Friendly Features
When searching for a flux core welder prioritize machines that offer user-friendly features. Look out for simple control panels, straightforward adjustments, and understandable settings. These characteristics simplify the process for novices to configure the welder. Also, these make modifications while welding.
Key Factors to Consider (Buying Guide)
Now we have emphasized the significance of selecting the flux core welder. So, let's explore the aspects that beginners should take into account:
1. Power and Voltage
It is of utmost importance to align the machine power with the specific welding tasks. Diverse welding projects require different power levels and voltages. If you're new, to welding it's best to choose a welder that allows you to adjust the power settings. This way you'll be able to tackle a range of welding tasks. For newbies welder with 110/120v input voltage is ideal.
2. Safety Features
Safety is most important when selecting a welder. Look for one that comes with overheating protection mechanisms. These features ensure that the machine doesn't overheat. And it reduces the possibility of any damage from unwanted situation.
3. Build Quality
Investing in a flux core welder made from high-quality materials is important. It needs to be sturdy and durable enough to withstand the demands of welding projects over time. The shield or cover of the welder should be strong enough to withstand the outside pressure and temperature.
4. Duty Cycle
Consider the duty cycle of the welder before making your choice. This refers to how the welder can operate before it needs time to cool down. As a beginner, it's beneficial to opt for a welder with a duty cycle 60%. Because it allows for uninterrupted welding sessions.
5. Wire Diameter
The compatibility, between wire diameters and the welder is another factor to consider. The wire diameter affects both the penetration and quality of your welds. Beginners should review the specifications of their chosen welder. Follow it to ensure that it can handle wire diameters required for their projects.
6. Portability
For those who're new to welding, must choose a welder that's lightweight and easy to carry. To enhance flexibility, it is essential for adaptable welding processes. When searching for welders it's good to look for ones that come with handles and have a design.
7. Adjustability
Having set for voltage and wire feed speed is crucial for achieving welds. If you're a beginner you can choose welders that allow adjustments. The customized level of control can greatly enhance the quality of your welds.
8. Affordability
Affordability is another factor to consider when selecting a flux core welder. While it's important to invest in a machine there are options at different price points. It's about finding the balance, between quality and affordability that suits your needs.
9. Brand and Warranty
Don't forget to take into account the reputation of the brand when choosing a welder. Well-known brands often provide customer support, availability of parts, and warranty coverage. A solid warranty ensures that you're protected against any defects or malfunctions.
---
Getting Started with Flux Core Welding
Flux core welding require a certain level of dexterity as it provides versatility and practicality for a wide range of welding projects. If you're new to welding to start your journey, this guide will equip you with some tips & tricks.
Also, you'll start with valuable insights to begin with confidence.
1. Safety Precautions
Prioritizing safety is crucial before starting any welding activity. Invest in high-quality safety equipment such as a welding helmet with a shade lens. You may also buy reliable welding gloves, flame clothing, and steel-toed boots. These protective gears act as your shield, against sparks, heat, and UV radiation.
It's essential to note that welding produces fumes and gases that can be harmful if inhaled. When you're welding it's important to be, in a space with proper ventilation. If you're welding indoors make sure there's enough air coming in through doors or windows.
2. Setting Up the Welder
To have a welding experience it's crucial to set up your flux core welder. Here's a step-by-step guide:
Choose the Right Machine: Select the right welding machine for better result. Make sure to choose a flux core welder that suits your project and matches your skill level. Don't go for a fancy welder also no too cheap welder.
Select the Appropriate Wire: When it comes to flux core welding wires there are different types of wires. Use your welders manual to determine the wire diameter and type, for your project.
Prepare Your Workspace: Before starting ensure that your workspace is clean and grounded. A clean work surface promotes conductivity and reduces the risk of fire hazards.
Adjust Welder Settings: Take the time to adjust your welder's settings. Consult the manual to configure the voltage, and wire feed speed. Try to select amperage settings according to the requirements of your welding job.
3. Practice Welds
Remember that practice makes perfect in skill based work like welding. Begin by practicing on scrap metal pieces to refine your welding technique. Focus on maintaining a hand and creating weld beads. Don't hesitate to experiment with settings on your welder as you practice.
This will help you understand how changes, in voltage and wire feed speed impact your welds. You may want to think about enrolling in a welding class or reaching out to welders, for some advice. They can give you tips and feedbacks that will help you enhance your skills.
---
Maintenance and Troubleshooting
To make sure your flux core welder lasts long and performs, it's important to keep up with its proper maintenance. Also, it's useful to know how to troubleshoot problems that may arise during your welding projects.
Let's explore the aspects of maintenance and troubleshooting:
Maintenance:
Make sure to clean the components of your welder.
You can use compressed air or a soft brush to areas that are difficult to reach.
It is important to check for any damaged components and replace them.
During welding ensure that everything rotates to avoid any issues, with wire feed.
Don't forget to clean the cooling vents to prevent overheating.
Troubleshooting:
If you notice that your weld beads are uneven or inconsistent it could be due to voltage or wire speed settings. Excessive spatter can occur if the wire speed or voltage settings are not right. So, check the wire feeder and take action if required. Reduce the speed and voltage to reduce the spatter.
Burn back problem occurs when welding wire sticks and fuses onto the contact tip. This can happen if there is a wire stick out of low voltage or a damaged contact tip. To solve the problem- make sure you have the amount of wire stuck out and replace the contact tip if necessary. Also tight the wire to the contact tip with plier by pulling it out a bit.
If you are experiencing poor weld and see weld slags scattered everywhere, then this may be because of dirty base metal. So ensure that your base metal is clean and free, from any rust, paint, or oil. If there is dust, rust or paint, grind that off or sand to pull off the dirt with the help of wire brush or sander.
Be cautious of overheating. It can occur if you engage in welding sessions without cooling measures. So leave the welder to cool down when it is over heated and also weld with a few minutes of interval. Make sure, your welder has some time to cool down after welding sessions.
If you find that the electrode is sticking, it could be because of amperage settings. Or it could be a sign of of contaminated electrode. So change the electrode and replace with new one to fight the problem. Adjust the amperage & make sure to use dry electrodes always.
In case you notice an irregular arc, it might be due to contamination of the electrode. Or it might be welding wire or even a loose connection. Check the connections and tight them up if required.
Final Words
Flux core welding is a skill that can open up many opportunities, in the welding field. It's important to focus on safety. So, make sure you invest in high-quality safety equipment and ensure ventilation in work space.
Dedicate to practice sessions to improve your welding skills. Don't hesitate to seek guidance from welders if needed. By honing your technique through practice, you'll be able to master the technique. Enjoy every step of your welding journey because what you love to do, you can become perfect to that.
Source: