Due to the variety of MIG wires on the market, welders often get confused about which MIG wire to get according to the welding job. A high-quality welding wire ensures a durable and flawless welding experience and ensures that your welding instruments don't get damaged. Mig gasless welding machines need high quality wires feeder for best welding result.
So, today, I have brought you a list of the best MIG wire for mild steel to let you know about the best options available on the market.
So, without further ado, let's begin.
Best Wire List For Mild Steel
INEFIL ER70S-6 (Best Overall)
YESWELDER ER70S-6 (Best For Beginners)
Hobart H222106 (Best For Carbon Steel)
Forney 42300 Flux Core Mig Wire (Editors Choice)
Blue Demon ER70S6 (Low Spatter Wire)
Welding City (Good For Mild Steel)
What Is Mild Steel?
You might also recognize mild steel as low carbon steel too. The reason is pretty apparent here because mild steel is basically a steel alloy. And in that when the carbon ratio is relatively low, like around 0.35 to 0.30%, that alloy is called mild steel.
As you already know, carbon contents in steel typically make it harder to weld an object. So due to the low carbon ratio, mild steel is cheaper and easier to work with.
Can You MIG Weld Mild Steel?
MIG welding has been a popular technique used in welding for a very long time. This technique is known for its cleaner finishes and ease of use too. So, naturally, people have been asking whether this technique can be used for mild steel.
The answer to this question is Yes, MIG welding can be used to weld mild steel without any problem. In fact, MIG welding is considered the best way of welding mild steel.
Why?
One of the primary reasons is because MIG welding is relatively straightforward where the electrode is fed automatically. This way, the users can pay their undivided attention to the welding piece instead of the technique. Try to choose a pro mig welder to start welding mild steel.
Detailed Review Of MiG Welding Wire For Mild Steel
Lets begin the review of mig wires great for mild steel. we have picked the products based on days of research. We have given priority to customer review & product features.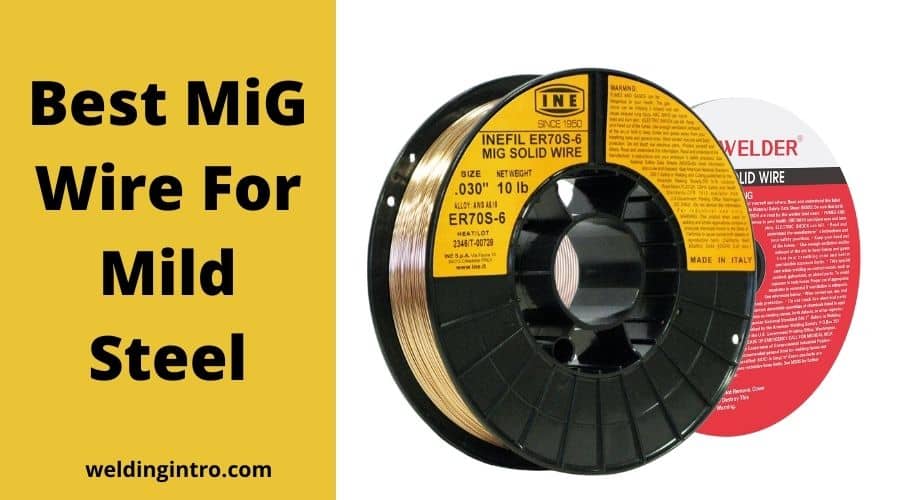 Lets read the review-
The first option on my list is the WeldingCity MIG welding wire, a pretty decent option; I have to say. First of all, you get to choose different wire sizes, which gives you the liberty of using it with any mig welder.
Next, I love the fact that there is a moisture-resistant plastic film to prevent moisture damage, a big challenge in terms of storage. As per my testing, the welding result was great with this MIG wire.
My only concern here is the plastic spool with the heavy 11 lb. of wire. If the spool breaks by any chance, it can make the whole thing pretty much useless.
What I Liked Most
Smooth feeding experience
Moisture resistant film
Different size options
Good value for money
What I Didn't Like
The spool is made of plastic and has an overlapping issue
Reason To Buy That One
Overall, I have enjoyed the experience of using the WeldingCity MIG wire. There was enough fluidity and minimum splatter. If the plastic spool doesn't break, this is an excellent MIG wire to work with.
Next, we have this ER70S-6 MIG welding wire from YESWELDER. There were some apparent benefits of ER70S that put this product on top of this list. For starters, this wire has the highest amount of manganese and silicon in it.
So when welding, it helps to generate consistent and high-quality welding even on rusted and oily steel. Next, we have a consistent flow rate that results in an excellent bead appearance. The flow rate also ensures that you have the minimum post-welding cleanup to do.
What I Liked
Excellent bead appearance
Minimum post welding cleanup
Suitable for a wide variety of applications
Good fluidity with minimum splatter
What I Didn't Like
Reason To Buy
At this price, it's hard to fund any good alternative to YESWELDER ER70S-6 MIG welding wire. If you are tired of splatter and post-welding cleaning, this is a definite recommendation.
If you are planning on welding carbon steel or carbon-manganese steel, there is no better option than INEFIL ER70S-6 carbon steel MIG solid welding wire.
This wire needs shielding gas of 80% argon and 20% carbon, but you can change the ratio to 75% and 20%, and the wire should work just fine. Personally, I love how this wire is laid down with almost zero spatters.
In the past, users have complained about the plastic spool's durability, but this time INEFIL has used a spool strong enough to survive the shipping.
What I Liked
Low splatter than most of the competitors
No overriding issue
Good looking weld bead
Strong plastic spool
What I Didn't Like
Some units have poor wrapping around the spool
Reason To Buy
As an ER70S-6 welding wire, this product is easy to recommend without significant drawbacks. If the wire is wrapped around the spool properly for your particular unit, you'll have fun using this welding wire.
Hobart is already well known for its welders and welding helmets. But can their MIG welding wire meet the same standard?
As per my review, it seems like it does meet the expectation. This welding wire is the perfect pick for various projects like fabrication and general day-to-day welding.
Moreover, it can weld rusty and oily metals without any issues. This MIG welding wire works like a charm if you can get the gas ratio right. You can do single or multi pass welding with it as much as you want, no matter the position.
What I liked
Compatible with a variety of application
This wire can easily handle welding oily and rusty parts
Supports all welding position
Consistent feeding experience
What I Didn't Like
Gets rusted as there is no copper coating
Reason To Buy
Hobart seems to get every aspect of this ER70S-6 welding wire right. This wire is definitely worth considering if you can just deal with the smaller spool size and short-term storage.
Blue Demon ER70S6 has made it to the list because of its ease of use. The welding performance was excellent with minimum splatter.
Moreover, the feed seemed to be very fluid, which is rare to see in such inexpensive MIG wire. In addition, MIG wire jamming on the spool is a common problem, especially when welding from odd angles. However, you don't have to face any issue like that with Blue Demon Er70s6.
Lastly, Blue Demon offers this wire in various MIG wire sizes and spool sizes, giving the consumer the liberty to choose an option according to their need.
What I liked
No jamming issue even in odd angles
Comes in different wire sizes and spool size
Not much grinding is needed as the wire generates a clean weld
Good deal as per the price per lbs.
What I Didn't Like
Some users complained about the spool's durability
Reason to buy
Performance-wise, most of the MIG wires on this list are the same, and Blue Demon is no different.
However, if you are looking for the wide option of choosing the wire size and spool, you should definitely get this Blue Demon ER70S6 MIG wire
Ending the list with a banger, Forney 42300 Flux Core MIG Wire. Forney is an established name in the welding industry, and this MIG wire proves why.
First of all, this MIG wire is flux core, which means you can shield itself. Next, the MIG wire allows you to weld from every position, so that's another crucial point when welding delicate projects.
Compared to the solid wires I discussed earlier, Forney 42300 tend to run a little hot, so that's an advantage if you work in windy condition. However, the drawback here is that the wire isn't suitable for multi-pass welding due to the heat.
What I liked
Flux core allows the wire to shield itself
Compatible with all welding position
It runs hotter, which means suitable for windy conditions
The arc runs pretty well
What I Didn't Like
Needs post welding cleanup due to spatter
Reason to buy
If your welding job requires you to work outside in the wind, there is no better choice than this flux core MIG wire. You might need some post-welding cleaning, but it would be worth it considering the benefits.
---
Also Check
What is the best shielding gas for MIG welding mild steel?
If you don't know already, the whole MIG welding technique is dependent on the use of gas that shields the arc. There are different types of gas used in mig welding for different materials.
So, you might be wondering which gas will be the best shielding gas for MIG welding mild steel? CO2 and Argon are the two most used shielding gas for MIG welding mild steel.
While carbon can be used as 100%, you can also use a mix of Argon and carbon at a 75% – 25% or 80%-20% ratio.
What type of MIG wire for stainless steel, mild steel, and galvanized steel sheet?
Different welding jobs require different welding jobs, and you are probably aware of that fact already. But did you know that the same goes for MIG wires too?
Depending on the material, like stainless steel, mild steel, and galvanized steel, the MIG wire changes too.
For starters, if you are MIG welding stainless steel, ensure that you only use stainless wire for optimum results. As for the thickness, choose a diameter between 0.030″ to 0.045′ depending on the thickness of the stainless steel piece.
As for mild steel, you can opt for something like carbon steel MIG wire. A diameter of 0.30″ should be enough for MIG welding mild steel.
Lastly, choosing MIG wire for welding galvanized steel can be a bit tricky. Since the solid wires don't really bring good results with galvanized steel, you can try using self-shielded flux core wires.
The flux material is an excellent help in dealing with the defects in galvanized steel.
What To look For While Buying Mig Wire (Guide)
Before we head into the review, I have gathered a small guide for choosing the best MIG welding wire according to your project. So let's have a look.
1. Mild Steel Welding Wire Size Selection (With Tips For Choosing The Best Size)
In selecting the MIG wire size, the rule of thumb is to check the diameter of wire your welder can feed. It doesn't make sense if your welder can't feed the wire size you purchased.
Next, if your welder is exclusively flux-cored, there is no point in investing in a MIG wire since the flux will generate the shielding gas for itself.
Next, I would suggest you choose the wire size according to the thickness of the metal.
Lastly, here are some bonus tips for choosing the best MIG wire size:
Try to choose the MIG wire dimeter according to the contact tip
Try to follow the welder's recommendation about its tolerance to feed a particular size
If your welder can only feed specific sizes, choose the exact wire diameter
Ensure your welder can generate enough amperage to weld your target material
2. Choosing Your Mild Steel Welding Wire Spool Size
Selecting the right MIG wire size isn't the end of the equation; you also have to choose the right spool size. There is no point in buying a large spool size like 10 lbs. when your welder cannot hold that much.
In that case, you might need to buy an adapter to store that extra spool. Usually, buying larger spools offer you a better per pound price. Also, if you do MIG welding occasionally, you might not need a spool as big as 10 lbs.; about 2lb. of spool should do the job.
3. Construction Material
Different construction materials need a completely different set of MIG welding wires. Without the right wire, you might not get the result you expect.
For example, if you plan to MIG welding a clan and oil-free mild steel, you should go with ER70S-3 wire. On the other hand, if the mild steel is rusted, ER70S-6 wire can be a better choice.
4. Tensile Strength
Tensile strength indicates the strength and ductility of the MIG wire you are using. So, for a solid welding result, it's an important consideration. Usually, the first two digits of the wire multiplied by 1000 indicate the tensile strength.
For example, ER70S-6 wire has a tensile strength of 70000 PSI. You need to take tensile strength in consideration while choosing MiG wire. 70,000psi is ideal for mig welding metal ranging from mild steel to stainless steel.
5. Feed Quality
Different types of wire come out differently out of the torch nozzle. If the wires are low quality or have inconsistencies, the feed quality can be disappointing. On the other hand, if the feed quality is not up to the mark, that can affect the welding badly.
So, while choosing a wire, ensure you have enough control over the wire feed.
Spatter and Flow
Splatters and inconsistent flow can be the enemy of any welding project. Those little metal blobs can ruin the look of your welding. To avoid that, choose a wire known for producing less splatter.
As for the flow, a higher flow rate or fluidity can be a good thing to point the impurities out of the construction material. And they are also easier to work with. So, make sure the wire you chose has a higher flow rate.
Last Word
I hope my review of the MiG wire for mild steel was helpful in deciding on a product suitable for your welder and your welding project. If you cannot decide right away, try the aspects I mentioned in the guide, and you'll figure out a MIG wire for yourself in no time.
Related Articles