Mig welding is an excellent process for joining metals with continuously feeding wire electrode. Mig welding can make a perfect and long-lasting joint between carbon and mild steel turbo pipe.
Besides, the versatility of MIG welding for turbo piping makes the mig welding popular among welders.
In this guide, we will talk on whether you can mig weld turbo piping, how to mig weld turbo pipe and the considering things for mig welding on turbo piping.
Can you mig weld turbo piping?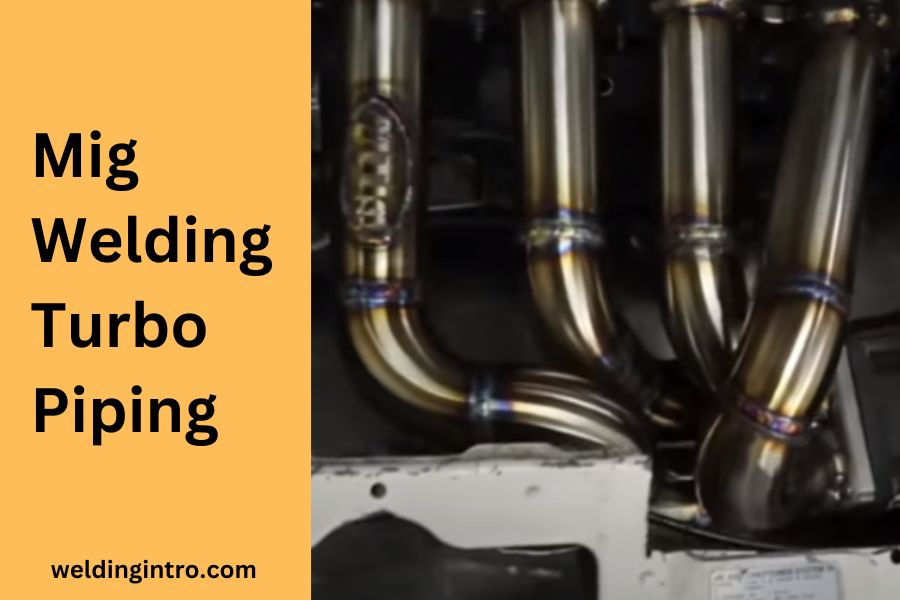 Yes, it is possible to mig weld turbo piping. Good to know that Mig welding is a popular welding process because it can weld on various metals, including different types of steel. Especially, MIG weld works great to weld on stainless-steel with a spool gun.
Cleaning the connection point of turbo piping to get rid of dirt and contamination before mig welding is a pre-condition. Otherwise, you can't get a smoother and strong joint.
Besides, using the right welding electrode is important to get a preferred weld joint on the turbo piping. Remember to set the mig welder power accurately for turbo piping.
Additionally, you should wear safety glasses, welding helmet and gloves to protect yourself from any damage.
How to mig weld turbo pipe?
First, gathering all the required components and materials for turbo piping is important. Those are a MIG welder, welding electrode wire, safety glasses, Clamps, welding helmet, hand gloves, face shields, and grinder. In the meantime, ensure an air-ventilated area for turbo piping.
Clean stainless steel turbo pipes to remove dust, rust and other contamination from the surface. Use a brush and grinder where you need. Then, keep the turbo pipes in your desired direction. Also, set turbo pipes in the right alignment.
Now, set the mig welder voltage and speed based on the turbo piping thickness. At first, you should start welding with low voltage current supply to ignore the burn-through problem. Put on your safety equipment before welding.
Start to run the welding gun on the joint of the turbo piping. Basically horizontal or vernicle position is preferred here. Move the gun at slow and steady pass first. After you get some momentum, you may weld multiple pass for perfect finish.
Feed the appropriate wire filler to connect two turbo piping strongly. The overlap and weave techniques are recommended.
Leave the metal joints for some time after completing the task. Make sure that there are no cracks, spatters or porosity. If you find any slag, remove them grinding or wire brushing after the welding.
Lastly, clean the welding surface properly to remove dirt and contamination. And smoothen the surface with grinder or by sanding the surface to dissolve the weld seam.
Type of wire to use in mig welding turbo pipe
Choosing a right wire for turbo pipe mig welding is essential. Besides, the wires should have better corrosion resistance since turbo pipes are made from mild steel. So, choosing dedicated steel wire is the perfect choice.
1. ER70S-2:
ER70S-2 is a solid welding wire, and it contains deoxidants. The specialty of ER70S is its excellent welding output on dirt or rusty surfaces. However, it is not like flux-cored electrode. The only downside of ER70S-2 is contamination during welding. It is mostly used in castings, forgings, pipe fitting, and turbo piping.
2. ER70S-3:
This welding wire is specially designed for carbon steel joints. If your turbo piping is carbon steel, then ER70S would be best. The core components of this wire are manganese, silicon and deoxidants. Using this with a blend of argon/CO2 (75/25) gas is recommended.
3. ER70S-4:
It is good for welding on lower to medium contaminated and rusty surfaces. The maximum amount of manganese and silicon components makes this welding wire an overall solid electrode. ER70S-4 is suitable for single-pass welding.
What to consider while mig welding turbo pipe?
Some crucial considerations can make your MIG welding turbo piping perfect.
Ensure the welding pipe and welding wire are made from similar materials. So, choose steel welding wire for steel turbo pipe.
Clean the welding area perfectly to remove contamination as much as possible. A contamination-free weld would be smoother and stronger in joints.
It is important to set up the workpiece in the right alignment. So, fit both workpieces with the right alignment. It will make welding secure and strong.
It is better to choose the location from where you will weld. Make sure you can sit comfortably and move around.
Set up accurate voltage, current, and wire feed speed in the welder machine.
Inspect after few hours of welding and check if there are any spatter, defect and porosity on the welding area
Remember to wear safety equipment. Otherwise, welding can cause serious health issues which can be even life-threatening.
Final Notes
You must remember to consider the factors we have mentioned above to get a professional weld on turbo pipe. Those factors are mandatory for a perfect turbo piping with a mig welding process.