A welder is a pretty versatile tool that you can use to weld various things such as nonferrous metals, stainless steel, etc. But can you use a welder for fractal burning?
In this article, we are going to answer this question. Continue reading to learn about it.
What Is Fractal Burning?
A fractal burning is a special art approach that many artists use to add various art designs or lightning-like etchings on wood surfaces. It is also known as Lichtenberg.
Professionals use a specific chemical to create wood-burning fractal patterns by utilizing a high-voltage electrical current. It is a trendy wood-art practice among young people.
People generally use jumper cables and dismantled microwave oven components to get an increased amount of voltage supply. Burning requires a higher amount of electricity.
How Fractal Burning Works and Requirements for Fractal Burn
A fractal burning process involves using high-voltage electricity. People often use machines like microwave oven transformers to transform current to particular wood items.
You need to soak your wood piece with a conductive chemical solution to create your desired pattern. Since it is a perilous job, trained professionals should only try this art technique.
Safety before Trying to Fractal Burn with Welder
When you use microwave oven transformers to supply currents to the wood items, it can produce a high voltage current, up to 15,000 volts (V) or 2000 milliamps (mA).
This fatal current could process a highly hazardous situation. After all, it involves a considerable hidden risk of electrocution. It can lead to a series of injuries and even deaths.
Hence, people who are very knowledgeable about fractal burning techniques can only try this option. Many professionals recommended using properly enclosed Neon sign transformers. Also, you want to adhere to the rules and disregard signage.
Can You Use A Welder For Fractal Burning On Wood
Yes, you can use a welder for fractal burning on wood. But make sure to fill the wood item with a deep black powdery or flaky substance while burning the wood.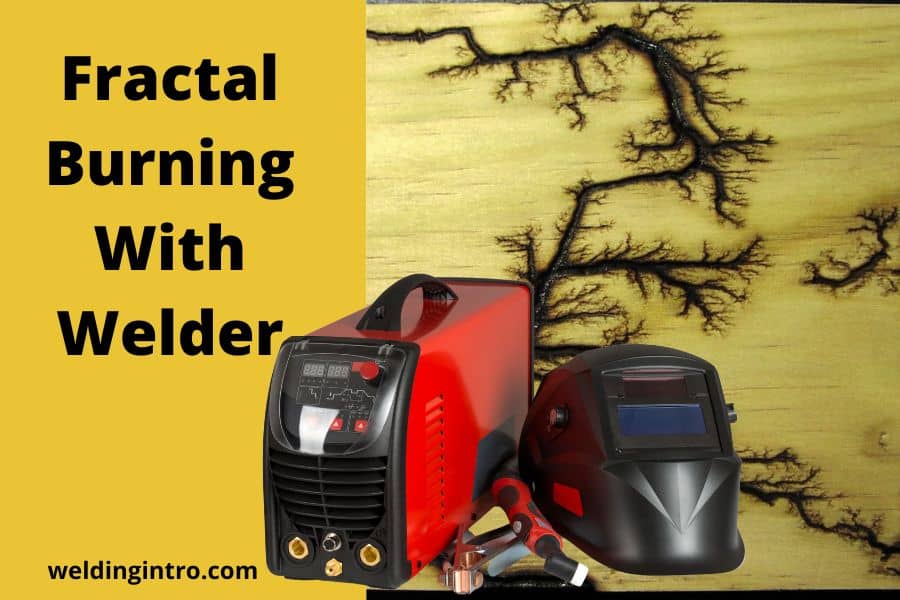 Finally, take off the soot after adding a beautiful fractal burned art on the wooden surface. Smoke will come out from the treated areas slowly.
Keeping the welder grounded is crucial to preventing electricity from contacting your body. This can happen when one hand is on the work surface while the other is on the metal table.
Plus, make sure to keep enough space for your desired pieces of wood. Keeping them too close together can lead to unwanted situations.
MIG, TIG, Stick, or Flux Core: Which One Is Good For Fractal Burn?
Welding approaches come in various options: MIG, TIG, Stick, or Flux Core. But stick welding is the best option for wood fractal burning.
This particular welding technique allows you to stick two pieces of metal together strongly. Instead of the arc, the wood piece is burned through the heat.
But as for the welding machine, you can use an arc welder or a stick welder. They have almost common functionalities. However, arc welders are slightly easier to work with.
You need to go for some additional work before starting burning the wood piece. If budget is not an issue, choosing a stick welder is a better option.
What Transformer Is Best For Fractal Burning?
Since fractal burning involves a highly risky job, you want to use the safest transformer. Choosing an incompatible or hazardous transformer can lead to serious accidents.
Can You Use Microwave Transformers?
Many people prefer using a microwave transformer because it provides extremely high voltage. Its high voltage winding can supply up to 1800 – 2800 volts.
If you are not highly expert in technical things, it can even kill you for making hazardous mistakes. Its dangerous voltage at lethal power levels can deliver a nasty shock.
This machine has magnetrons, which supply dangerous microwave radiation. Beryllium oxide is also included inside the magnetron. If you inhale beryllium oxide, it can affect your lung.
Neon Sign Transformers
If you are looking for the safest option, neon sign transformers appear a practical choice. After all, it has lower amperage. But maintaining some cautious steps is crucial.
You can't touch the high voltage winding. Changing the nail positions is mandatory to source the air gap. Plus, don't forget to hide the rig when you are not using it.
So, what is the advantage of using neon sign transformers over microwave transformers for fractal burning? It provides flexibility regarding voltage and power source.
Unlike other transformers, they have electrodes. They are not prone to heat up unnecessarily like filaments. But make sure to use salts and water to make the wood more conductive.
Can Fractal Burning Be Done Safely?
The primary concerning point is the involvement of high-voltage electricity. You need a distinctively designed enclosed apparatus to use for wood fractal burning.
But you should have sufficient knowledge about how fractal burning works. More importantly, you need to know the ideal way to operate your preferred transformers.
If you want to use microwave oven transformers, be extremely cautious. However, it is best to avoid it if you have the alternative safest options.
Here are a few safety tips you must follow to ensure optimal protection:
Make sure to go through all the guidelines of the burner before using it.
Keep another experienced person with you while doing the task to supervise and give directions.
Before plugging the burner, don't forget to finish all the preparation steps.
Activate the foot switch only after keeping both probes in your control.
Avoid holding the probes. They can stand independently. Keep them close to the burning location.
Always hold the rubber handle when the burning process is going on.
Final Thoughts
Are you still wondering about this question: Can you use a welder for fractal burning?
Make sure to use a stick welder for fractal burning since it is safer and provides controlled voltage electricity. It is always best to get it professionally done if you don't have technical knowledge.  
Related Articles